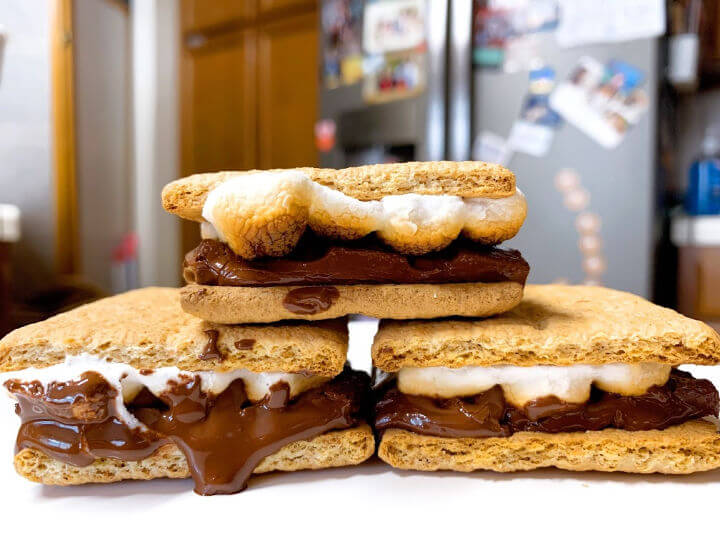 Contrary to popular belief, making s'mores at home doesn't require a campfire, open flame, sticks, or a torch. S'mores can be made in the oven!
S'mores is a mouthwatering, sinful, gooey dessert that you can tease your Keto friends about!
The roasted, pillowy marshmallows and melted chocolate perfectly complement each other well. And the sticky, sweet mixture oozes out of the crunchy graham cracker sandwich, upon each and every bite.
Did that make you drool? OK, then make this s'mores in the oven, like right now! Get those graham crackers, marshmallows, and chocolate into your Instacart order.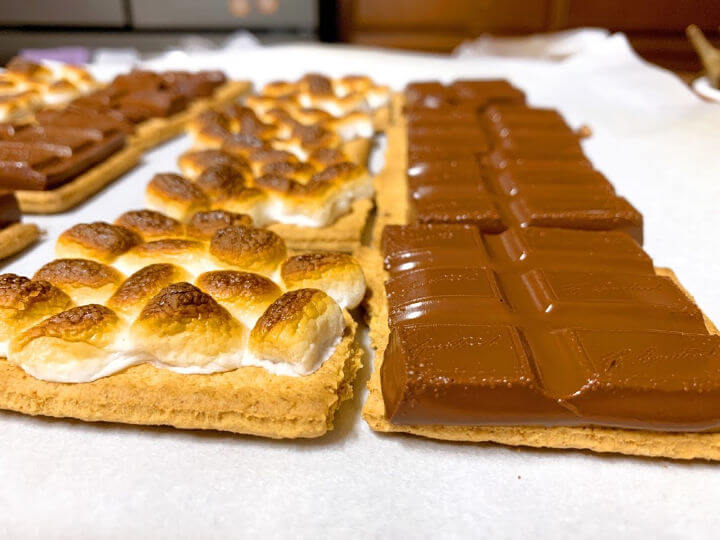 S'mores in the Broiler
What if I told you that it can cook in 2 – 3 minutes too? Oh, heck yes!
All you need is a baking sheet and a broiler. Why a broiler?
Because it's super quick! Like in 2 -3 minutes, the marshmallows are already toasted and the chocolate melted.
S'mores Ingredients
S'mores is 3 basic ingredients – graham crackers, marshmallows, and chocolate. I used mini-marshmallows because that's what was available at the supermarket but it also browns faster.
You can use regular marshmallows too!
For chocolate, I opted out of Hershey's chocolate, which is too sweet for me. Instead, I chose Ghirardelli dark chocolate because I like the balance of dark chocolate over semi-sweet chocolate.
Use whatever chocolate you love eating though!
Love chocolate? Check out these chocolate mochi donuts!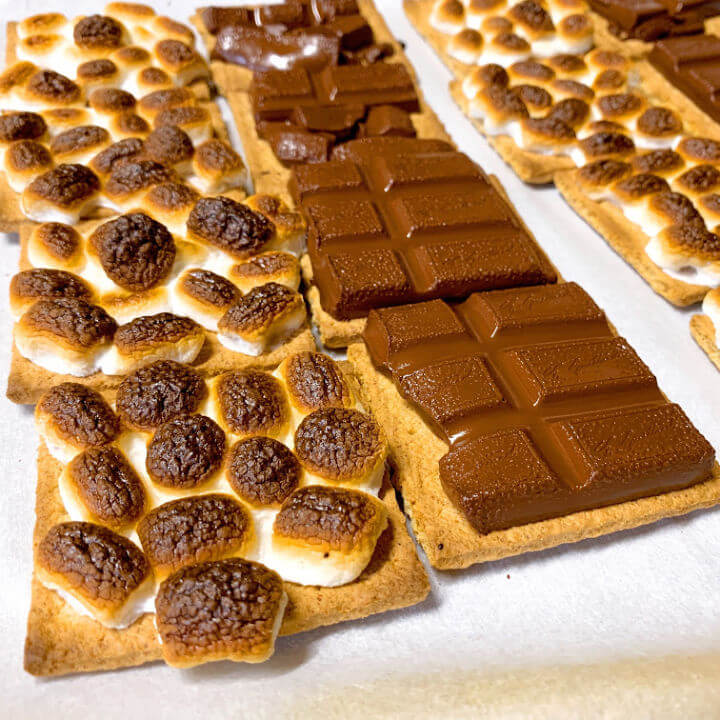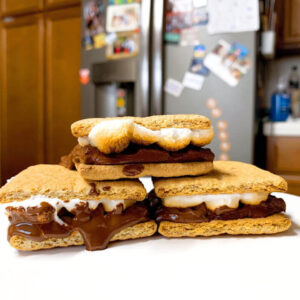 S'mores in the Oven
This is the easiest way to make s'mores, in the oven! Make s'mores at home without any special tools.
Instructions
Preheat broiler. Using a knife, slice each graham cracker in half so that you end up with 8 halves.

Unwrap chocolate bars and slice in half with a knife so that you end up with 4 halves.

Lay out crackers 2 by 2, as if you're making sandwiches onto a baking dish. Place one chocolate half on one side of the graham cracker sandwich. Then place 12 mini marshmallows onto the other half of the graham cracker sandwich. If using large marshmallows, place 1 marshmallow per graham cracker sandiwch.

Broil for 2 – 3 minutes until the marshmallows brown and chocolate melts. Remove from oven. Combine both halves of the graham cracker slices so that you have a s'mores sandwich. Enjoy!
Notes
Have more graham cracker slices on hand, in case some crackers are broken. I had a box where more than half of the crackers were already cracked!
Please LEAVE A STAR RATING and COMMENT! Help GET THIS RECIPE FOUND by more people.
This post contains affiliate links. When you make a qualifying purchase, I will receive a small commission at no extra cost to you.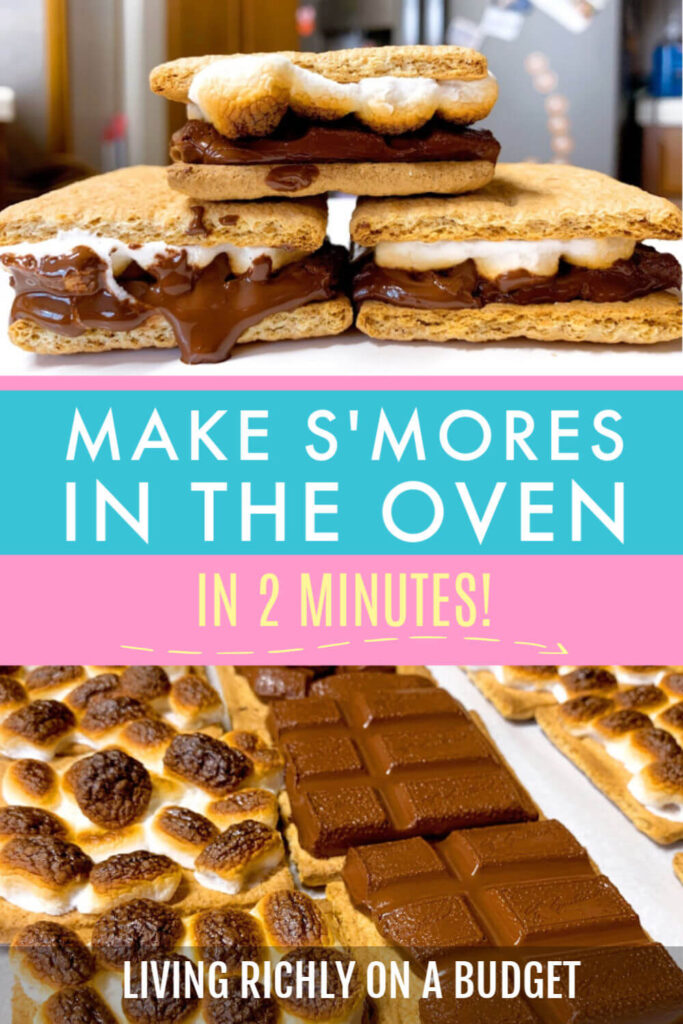 More:
Sugar-Free Dairy-Free Ice Cream Recipe
Dalgona Coffee Whipped Coffee Drink
Dalgona Matcha or Whipped Matcha Latte (No Egg)
Make Mocha at Home without a Machine