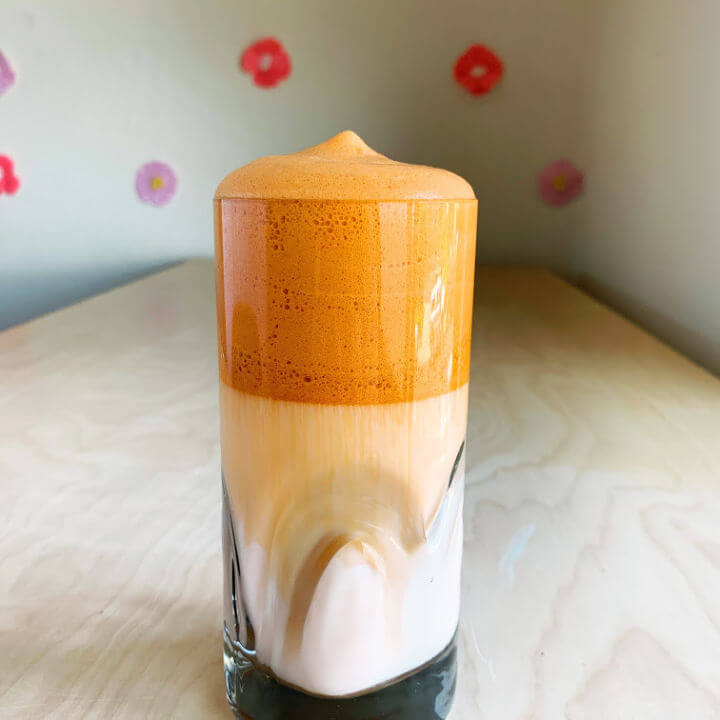 Here's another delicious variation of the popular Dalgona Coffee. This is Dalgona Thai Tea and it's perhaps my favorite Dalgona drink!
After discovering Dalgona Coffee drinks, I was a little obsessed. I love how easy it is to make and with just a few ingredients.
I've made Dalgona Coffee, Dalgona Chai, and Dalgona Matcha Green Tea.
I was sharing my pictures of Dalgona Coffee and then my cousin sent me a picture of Dalgona Thai Tea and my eyes lit up!
What??? I had NO idea that Dalgona can be made with tea!
I love Thai tea, although I have never successfully made it at home before. I did have Thai tea bags sitting in my pantry.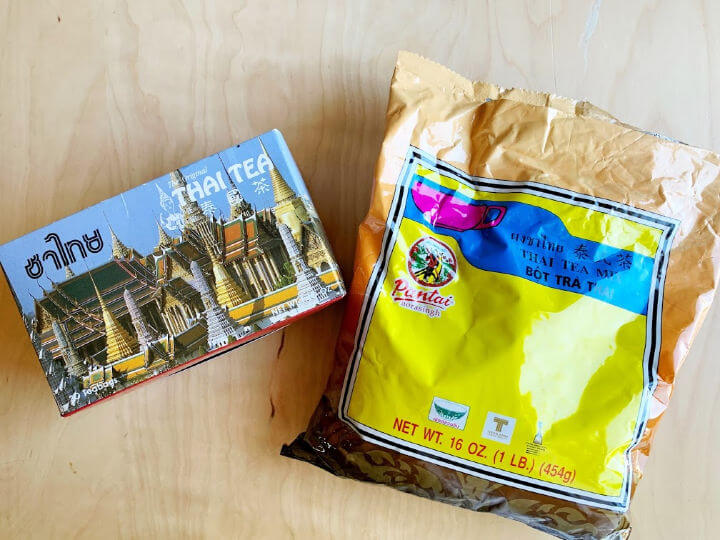 Tea Bag vs. Tea Mix
Originally, I bought the tea bags because they don't have food coloring. And I'm all about being healthy and avoiding artificial ingredients.
I tried making Dalgona Thai Tea with the tea bags and it came out with a light Thai tea flavor. And the color was more like coffee than the signature orange color of Thai tea.
So I ordered Pantai Thai Tea mix from Amazon and began experimenting. The Thai tea mix is what restaurants use to make their Thai tea.
This Thai tea mix is SO fragrant with vanilla notes. The flavor is stronger, more pronounced, and full-bodied than the tea bags.
I feel like the tea mix has other ingredients besides just tea and food coloring but it doesn't say so on the package.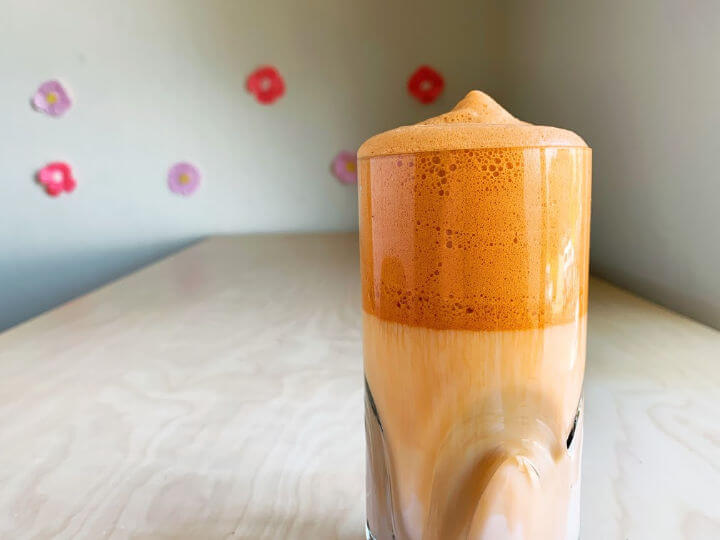 Thai Tea Mix without Food Coloring
If you're trying to avoid food coloring, there is another brand by Yim Tea, albeit a higher priced one, that doesn't have food coloring.
Is this Dalgona Thai Tea recipe dairy-free?
Heck yes! I know a lot of people are dairy-free and this is one of the few Dalgona tea recipes that can be made dairy-free. The Dalgona mixture doesn't have any dairy or cream so you can use a dairy alternative as your milk.
Thai Tea Dalgona Coffee Step-by-Step
This Dalgona tea recipe is 2 steps. Brew tea first then make mix ingredients with hand mixer.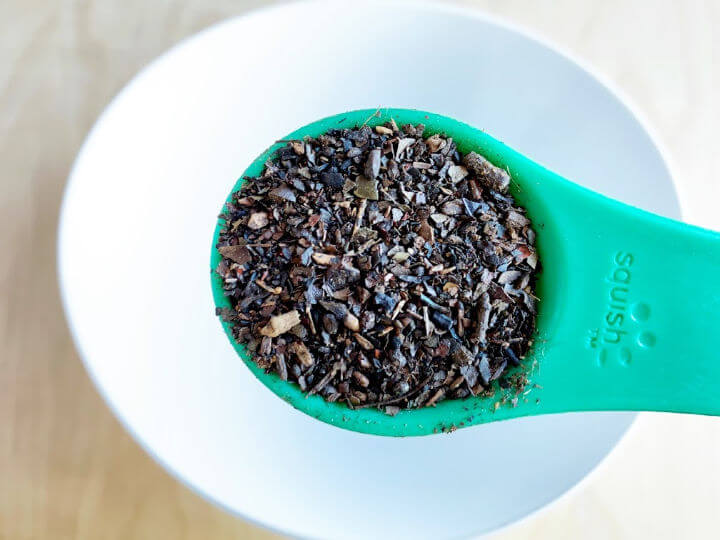 Add Thai tea mix into a bowl or coffee press. If using tea bags, then steep 2 tea bags for 3-5 minutes.
Pour in hot water. Steep for 3 minutes. The bowl will get very orange! strain out brewed tea into a cup.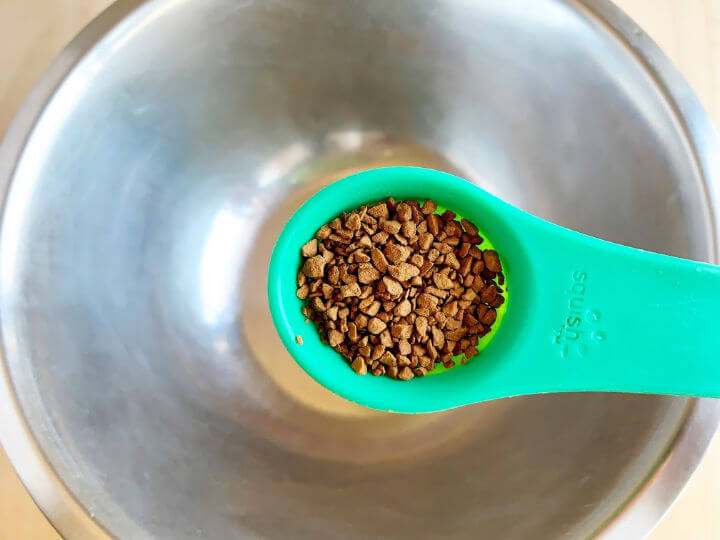 In a mixing bowl, add in instant coffee. (Remember it has to be instant coffee, not ground coffee.)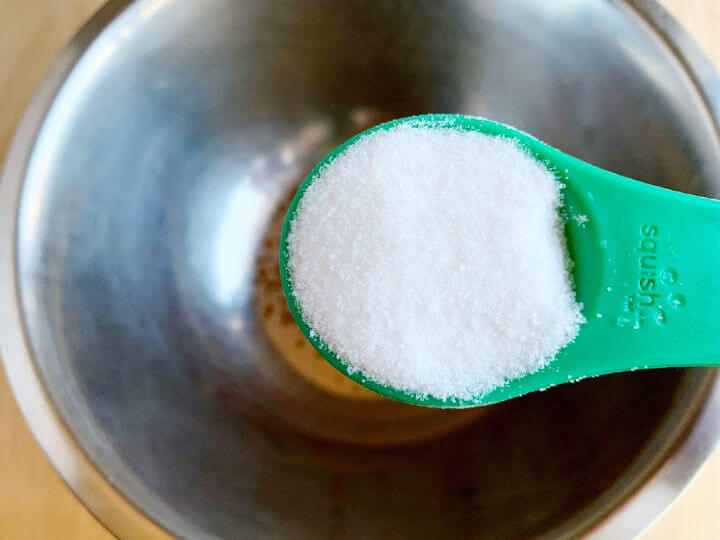 Add sugar.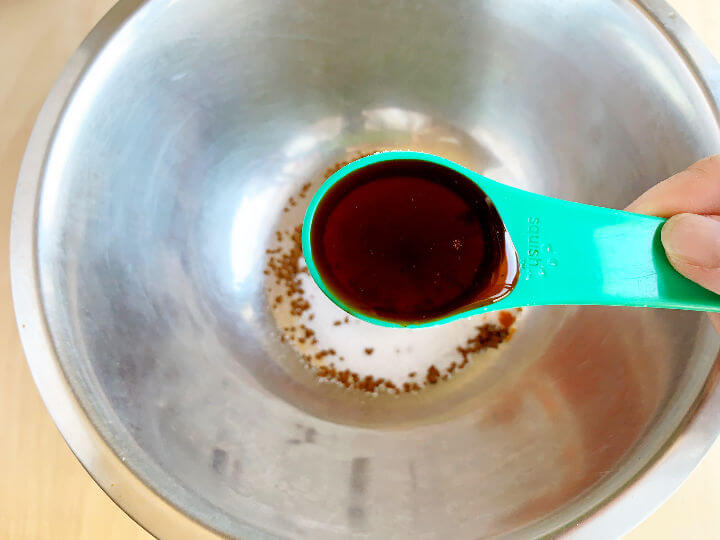 Add brewed Thai tea.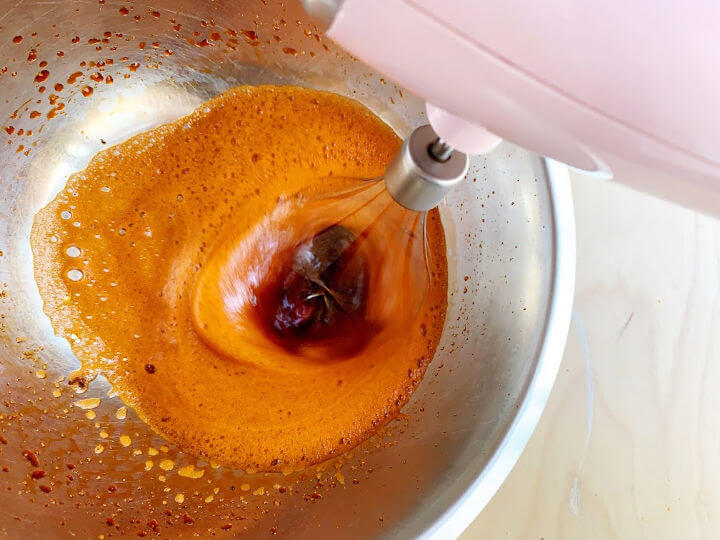 Start mixing at the lowest setting, until incorporated.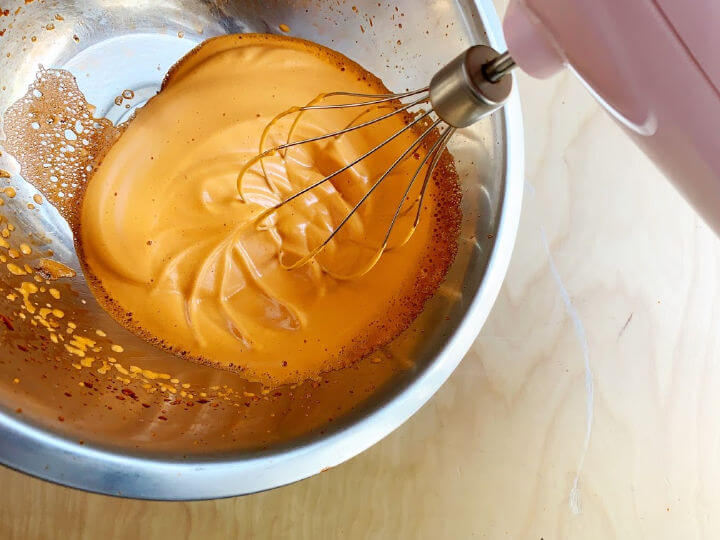 Then turn up the speed to medium or high. The volume will increase and the color will get lighter.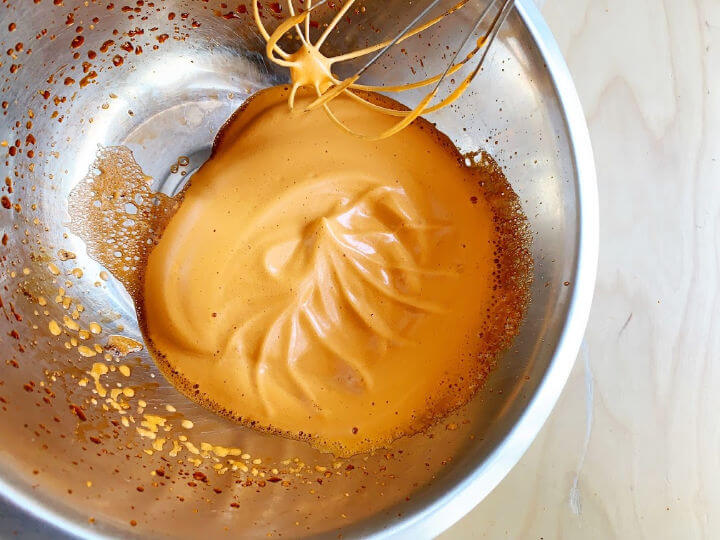 Keep going until you get stiff peaks.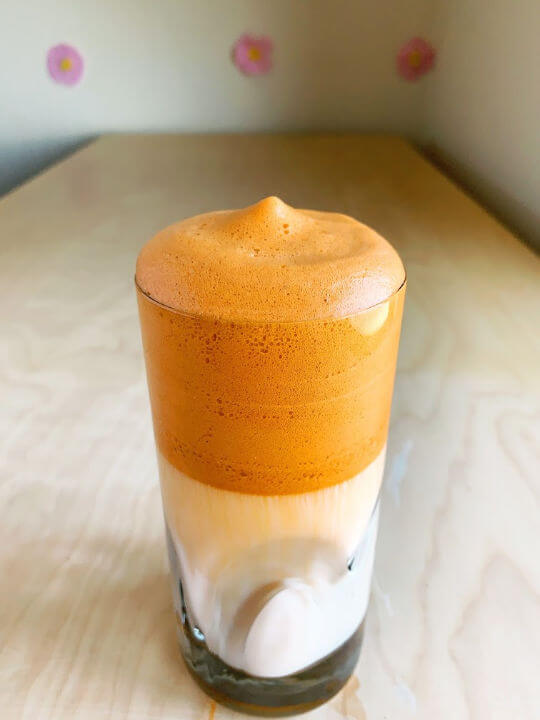 Pour Dalgona Thai tea mixture into a glass of milk. See how much whipped Thai tea mixture we got? It's like half the cup!
Dalgona Thai Tea Recipe Video
This post contains affiliate links, where when you make a qualified purchase through the links, I will earn a small commission at no extra cost to you.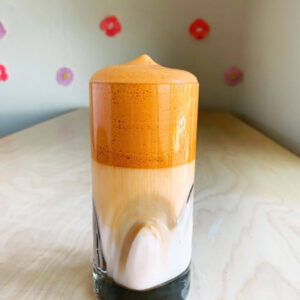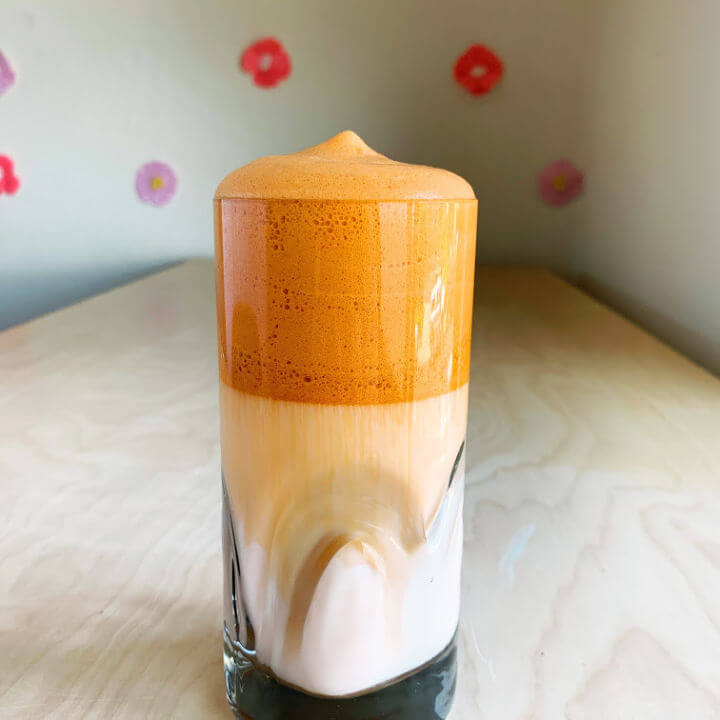 Dalgona Thai Tea
Thai Tea + Dalgona Coffee = Dalgona Thai Tea
Instructions
Make Brewed Tea
In a bowl or coffee press, add Thai tea mix and hot water. Steep for 3 minutes. Strain out tea leaves with a tea strainer or coffee press and pour brewed tea into a cup.
Make Dalgona Tea
In a mixing bowl, add instant coffee, sugar, and brewed tea. Using a hand mixer with whisk attachment, mix on low speed until incorporated. Then turn up hand mixer to medium to high speed until dalgona Thai tea mixture increases in volume and turns a light orange color. Keep mixing until the creamy mixture fluffs up even more and has stiff peaks.

In a cup, pour in milk and (optional) ice, leaving at least half the cup empty for the Dalgona mixture. Scoop in Dalgona Thai tea mixture onto the milk. Serve and enjoy.
Please LEAVE A STAR RATING and COMMENT! Help GET THIS RECIPE FOUND by more people.
This post contains affiliate links. When you make a qualifying purchase, I will receive a small commission at no extra cost to you.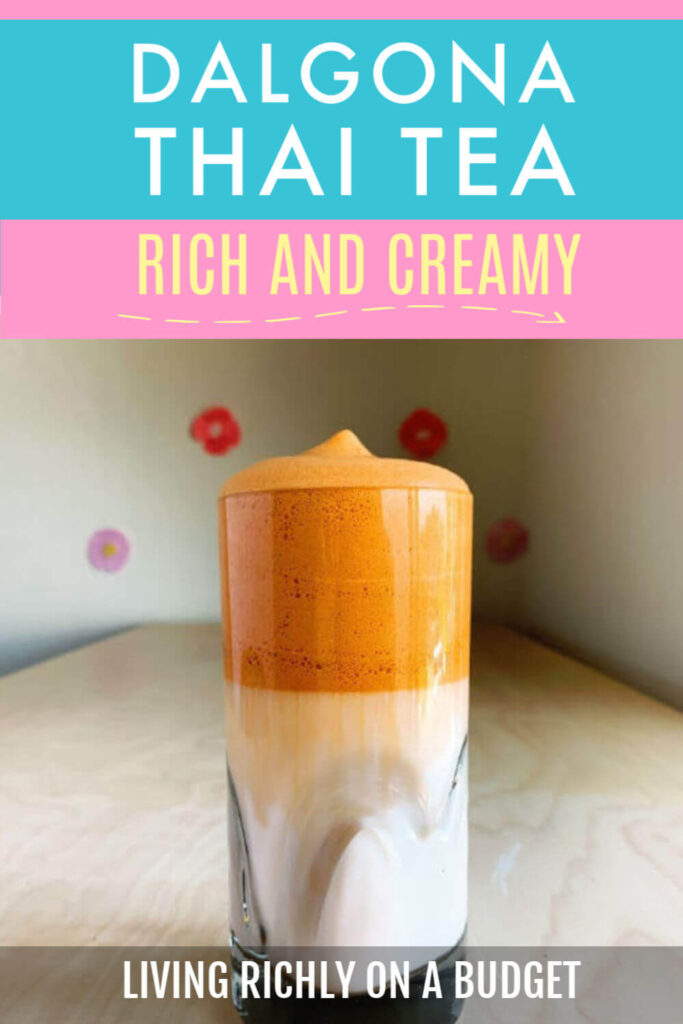 More:
Dalgona Matcha or Whipped Matcha Latte (No Egg)
Make Mocha at Home without a Machine