This is a sponsored post written by me on behalf of NatureSweet. All opinions are 100% mine.
School has started and evenings are getting busier, with Back-to-School night and karate. Sometimes it makes it more challenging to plan dinner without resorting to take out or unhealthy fast food.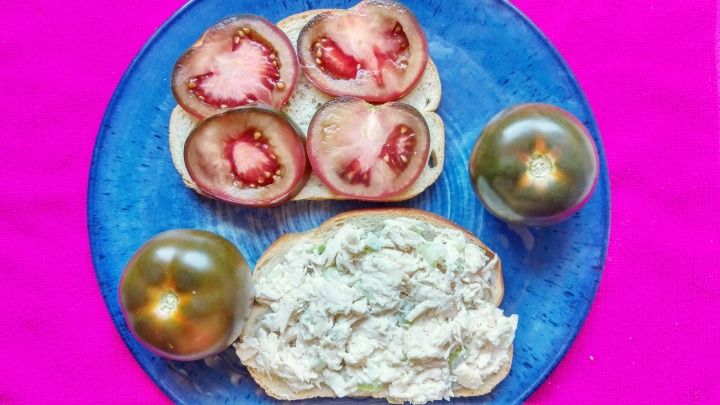 On these hectic weeknights, I like to plan simple meals… that you don't have to cook! Yes, no cooking required.
Store bought rotisserie chicken is a go-to meal in our household. Here's another idea for that rotisserie chicken.
I have a simple, healthy, no cook recipe for rotisserie chicken salad sandwich that would be great for school lunches or an easy dinner at home. You can make a big batch and have it ready to go for quick sandwiches or salads.
Make this in under 10 minutes! And have the kids help too!
To take this simple chicken salad sandwich up a notch, I've added diced celery for crunch and NatureSweet Eclipses tomatoes for juiciness. You have to try these Eclipses!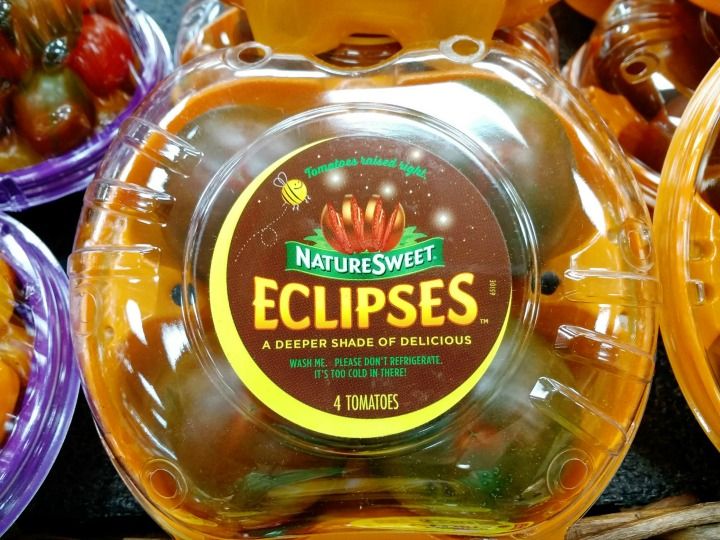 What are NatureSweet Eclipses?
There are so many variety of tomatoes, with different sizes and colors. NatureSweet Eclipses are regular sized tomatoes that have a beautiful, deep color, which means a richer taste.
They come in a pack of 4 and are ready to use after washing.
NatureSweet Eclipses are juicy, savory, meaty, rich, and savory and go perfectly with the spices of the rotisserie chicken for this chicken salad sandwich. Feel free to add diced green apples or red grapes for sweetness.
When you slice the Eclipses, you can see the gorgeous red and green colors. This is so unique and different than regular tomatoes.
The Eclipses are great for entertaining. Slice them and serve with mozzarella and fresh basil for a simple appetizer. Or add them to a salad. Find more ​recipes using NatureSweet Eclipses.
And it's healthy! If you're looking for an easy way to get more vegetables into your family's diet, sliced Eclipses tomatoes are a great option.
I love them on homemade pizza with olive oil instead of red sauce. Make your crust, then brush with olive oil, layer with shredded mozzarella cheese, and then top off with sliced Eclipses and bake it in the oven.
NatureSweet Eclipses are picked at the peak of freshness, Non-GMO and EFI certified, and available year-round. And they are the best tasting tomato in the NatureSweet family.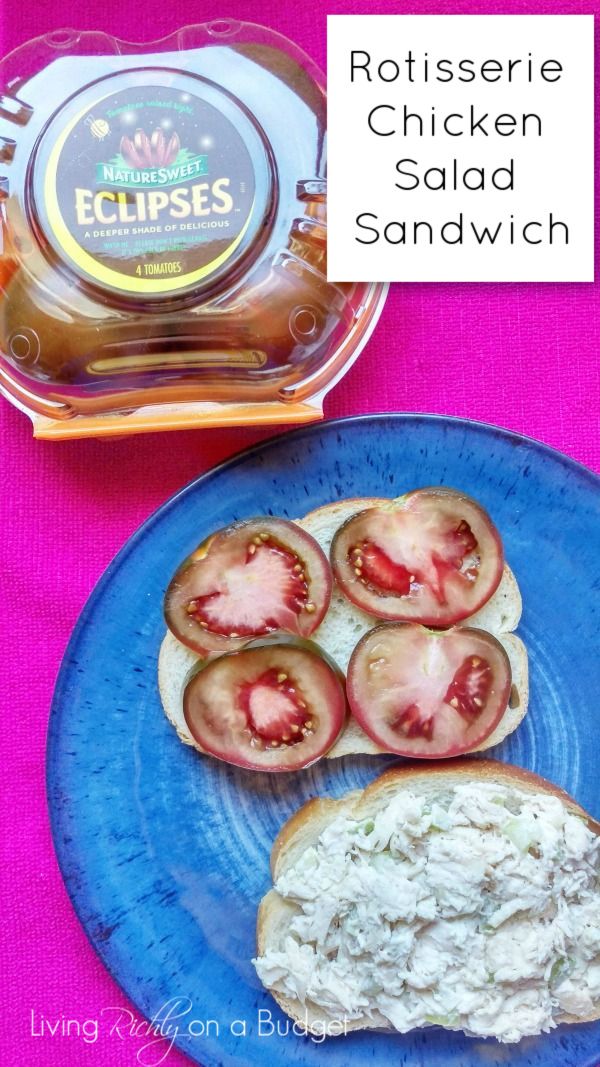 Rotisserie Chicken Salad Sandwich Recipe
serves 1
1 tablespoon diced celery
1/2 cup of shredded rotisserie chicken
1 tablespoon mayonnaise
2 – 4 slices of NatureSweet Eclipses tomato
2 slices of bread
salt and pepper to taste
To a bowl, add diced celery, shredded rotisserie chicken, and mayonnaise. Mix well. Add salt and pepper to taste, optional.
Spread chicken salad mixture onto a slice of bread. Place sliced NatureSweet Eclipses tomatoes over chicken salad mixture. And complete the sandwich with another slice of bread.
Other ideas: add diced green apples or halved grapes to chicken salad mixture for added sweetness.
Notes: Since the rotisserie chicken is already seasoned, you don't have to add salt and pepper, if you don't want to.
Try NatureSweet Eclipses!
Find NatureSweet Eclipses near you