Chicken noodle soup can help with cold and flu symptoms. And homemade chicken noodle soup is way better than canned soup. This is my go-to soup when anyone in my family gets sick.
I'm not promising that this soup will instantly heal you, but it helps, along with other healthy foods, to aid in healing.
With the Instant Pot, this healing chicken noodle soup is easy to make and the best part is that there's no need to nurse anything over the stove. Do the prep work, walk away and come back to amazing chicken noodle soup!
I can't tell you how convenient this is to cook in the Instant Pot. I do the prep work of chopping vegetables and sautéing them in the Instant Pot.
Then I literally walk away to do something else. I let the Instant Pot do a natural release and come back later and the soup is ready for me.
The Secret Healing Ingredient
What makes this soup slightly different is that I add seaweed to help reduce phlegm. In Chinese medicine, seaweed is used to disperse phlegm and it is rich in Calcium and Iodine.
And the thing is, there are different kinds of seaweed so you have to get the right one. I use wakame seaweed in soups.
When wakame seaweed is dried, it's wrinkly and stringy.
I buy a Korean brand of dried seaweed that comes in a long, rectangular package. It looks like twisted, green rope.
I use wakame seaweed because it's not processed as the nori seaweed sheets used for rolling sushi or the snack packs that are seasoned and cooked in oil.
I also find that it's not as enough chicken as I'd like, so I added tofu and it made it heartier.
I also use pho (Vietnamese rice noodles) because they are easy to digest and cook quickly. You can use whatever noodles you like or even add cooked rice to it.
I usually make a whole pot of soup and store it in large container in the fridge and eat it over the next few days.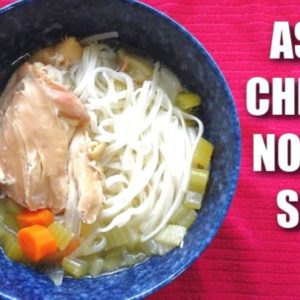 Instant Pot Healing Chicken Noodle Soup
Homemade, healing chicken noodle soup is convenient to make anytime in the Instant Pot. Dump all the ingredients in and when you return, your soup is ready!
Instructions
On your Instant Pot, select Saute More setting. When the display says "Hot", add in oil.

When the oil starts shimmering, add in carrots, celery, and onion. Stir occasionally until onions are translucent.

Add in crushed or minced garlic. Stir until garlic dissolves or browns.

Fill the Instant Pot with water until you reach one inch below the max line, to avoid overflowing. For newer Instant Pots, fill water until you reach the max line of 2/3 full.

Spoon in Better Than Bouillon chicken base. It doesn't have to be fully dissolved.

Close the lid and seal the Instant Pot. Select high pressure and 20 minutes.

While the Instant Pot is cooking, cook the pho noodles. In a medium size pot, add water. Set it over the stove on medium high heat. When the water starts to boil add the pho noodles. Cook for 5 minutes or until soft. Adjust the heat as necessary to prevent it from boiling over. When the noodles are cooked, drain and set aside in a bowl.

Also, while waiting for the Instant Pot to cook, cut dried seaweed into 1 inch pieces. Soak in a bowl, with enough water to cover seaweed. Set aside. This is also the time to cut tofu into cubes, if using.

When the Instant Pot is finished cooking, either do a quick release or natural release. Open the lid and salt to taste.

Add in seaweed and tofu, if using.
Notes
Dried seaweed helps with eliminating phlegm when you're sick. However, you have to buy the right kind of seaweed. Get the long packages of Korean seaweed that look like twisted green strings. Don't buy the flat seaweed that's for sushi or the little seasoned squares for snacking.
Please LEAVE A STAR RATING and COMMENT! Help GET THIS RECIPE FOUND by more people.
This post contains affiliate links. When you make a qualifying purchase, I will receive a small commission at no extra cost to you.