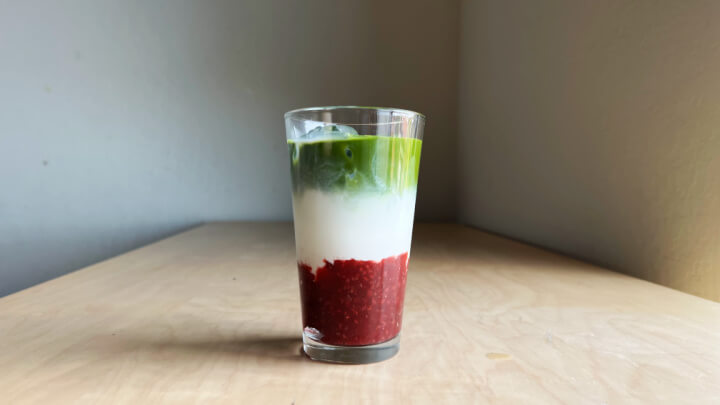 Make this impressive and delicious raspberry matcha latte and in just 5 minutes? Yes! I'll show you how.
Iced matcha drinks are so addictive and refreshing. With raspberry flavor as a twist, it makes this matcha latte uniquely different and irresistible.
3 Layered Iced Matcha Origin
Where did the 3 layered drink come from? Originally, The Boba Guys, a popular boba shop in San Francisco, came up with the Strawberry Matcha Latte. You can check out their extensive boba drink menu.
It's so colorful and an interesting variation on matcha drinks that it's reminiscent how alcoholic cocktails are beautifully presented. But now these gorgeous matcha drinks are nonalcoholic that everyone can enjoy them.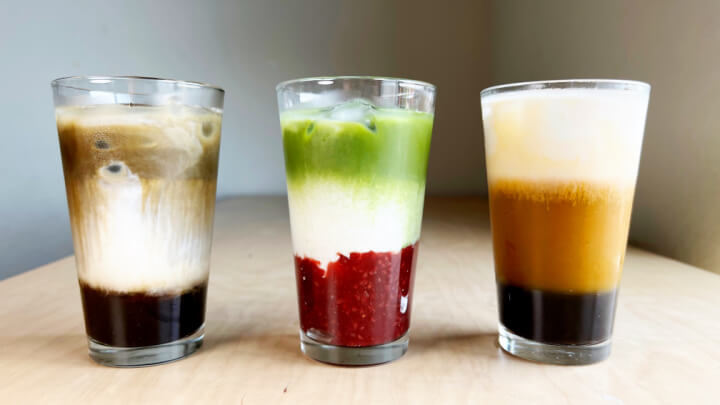 How to Pour Layers
Here are my pouring tips:
Be sure that all liquids are cold or room temperature, not warm or hot.
Make sure the drink has lots of ice, at least 2 inches over the bottom layer.
Use a measuring cup with a spout or milk frother cup to pour so that the liquid comes out in a narrow stream.
Pour over 1 ice cube only. If the ice cube starts moving while you are pouring, then follow the ice cube.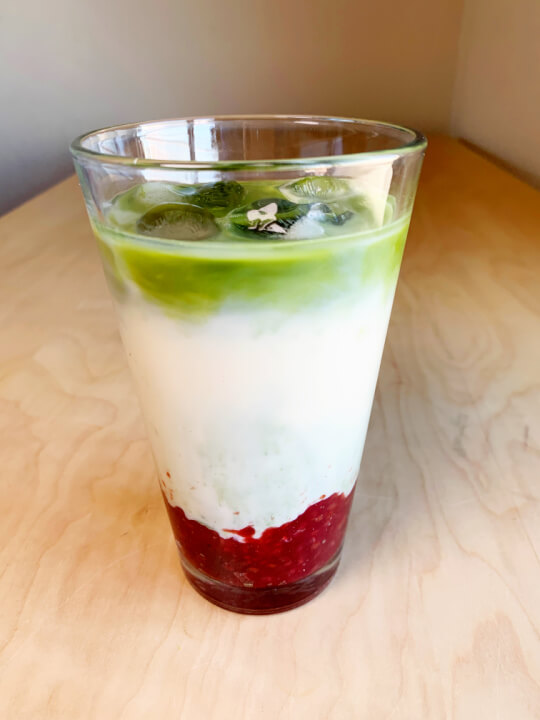 How to Make This in 5 Minutes
Instead of pureeing the raspberries, I use raspberry jam from Trader Joe's. It's almost the same thing except that the raspberries in the jam are cooked. But it's ready to go and adds a delicate flavor to the matcha.
The Layers
Top: Matcha
Middle: Milk or Milk Substitute
Bottom: Raspberry Jam
Watch the Raspberry Matcha Latte Video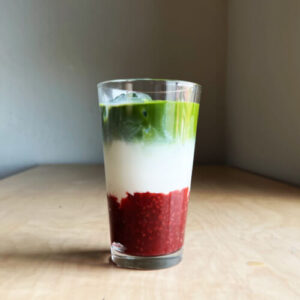 Raspberry Matcha Latte (5 Minutes)
Make this impressive looking, delicious matcha drink with just a few ingredients.
Ingredients
1

pouch

Trader Joe's instant boba

2

tsp

matcha powder

3

tbsp

water

1

cup

milk or milk substitute

1.5

tbsp

honey

3

tbsp

Trader Joe's raspberry jam
Instructions
Prep Instant Boba
Place instant boba pouch into a small bowl and microwave for 45 seconds. When finished, remove bowl from microwave. Cut open pouch and pour boba liquid into bowl and add 2 ice cubes to cool down the boba. Set aside.
Prep Matcha Mixture
In a small bowl, add matcha powder and water. Whisk with a bamboo or wire whisk until no lumps remain, about 20 seconds. Set aside.
Prep Milk
Pour milk or milk substitute into a measuring cup. Mix in honey until well dissolved. Set aside.
Bottom Jam Layer
Carefully scoop raspberry jam and place into the bottom of glass cup. Using a spoon or butter knife, spread the jam around the bottom 1 inch sides of the glass, leaving some jam at the very bottom of the glass.
Add Ice Cubes
Place ice cubes so that it's at least 2 inches above the jam layer.
Milk Layer
Make sure milk is in a measuring cup with a spout. Carefully pour milk onto 1 ice cube, making sure to stay still. If the ice cube moves around, then follow the ice cube. Always make sure to have the milk hit the ice cube first before the jam layer.
Matcha Layer
Pour matcha mixture into a measuring cup with a spout, carefully pour matcha mixture onto 1 ice cube without moving. Enjoy!
Please LEAVE A STAR RATING and COMMENT! Help GET THIS RECIPE FOUND by more people.
This post contains affiliate links. When you make a qualifying purchase, I will receive a small commission at no extra cost to you.
Pin for Later: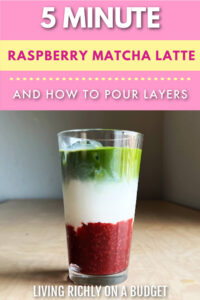 You Might Also Like:
Hojicha Milk Tea Boba (5 Minutes)