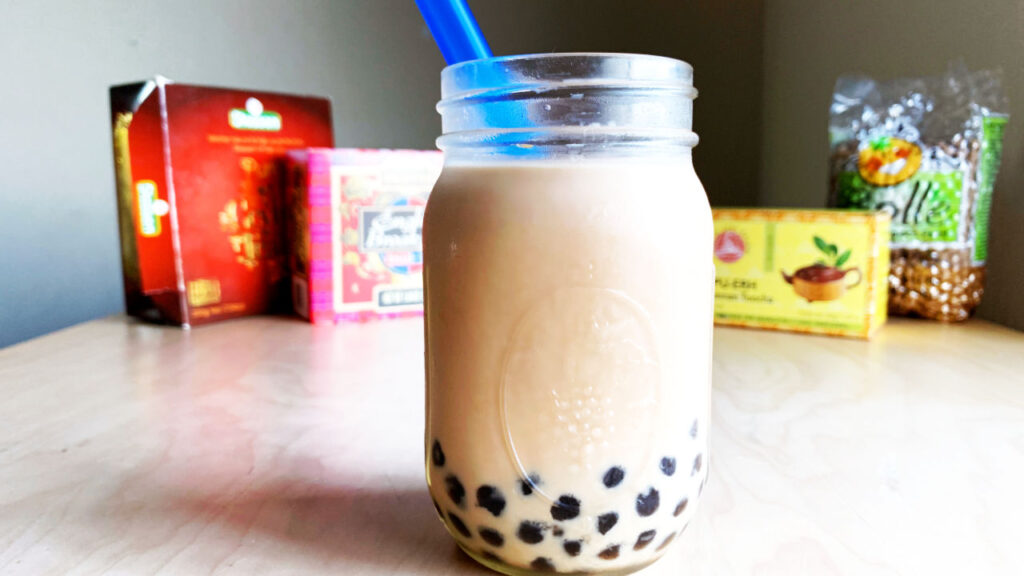 Are you obsessed with boba or bubble milk teas that you can't get enough? Have you ever wondered how to make it at home and make it taste legit, like it came from a boba shop?
I'll show you how to make a classic milk tea AND how to cook boba! We'll go over the details of what kinds of teas to buy and how to choose the best tapioca pearls that will give you that chewy, warm gummy bear consistency.
What is boba milk tea?
Just in case you didn't know, boba milk tea is a refreshing drink that originated in Taiwan. It's a sweetened iced tea with cream and chewy, tapioca pearls sit at the bottom of the drink. You eat the pearls with a wide straw.
Now there are so many variations for boba milk tea with different kinds of teas and toppings. For this recipe, we are focusing on the classic milk tea flavor.
Boba or Bubble Tea?
Boba tea, bubble tea, and pearl milk tea are all the same thing. I know it sounds confusing but different regions use different terms. It all means a milk tea with tapioca pearls.
Also, boba balls, boba pearls, and tapioca pearls are the same thing.
What are boba tapioca pearls?
Boba or tapioca pearls are the chewy little balls at the bottom of the drink. They are made with tapioca, a starch extracted from the cassava root.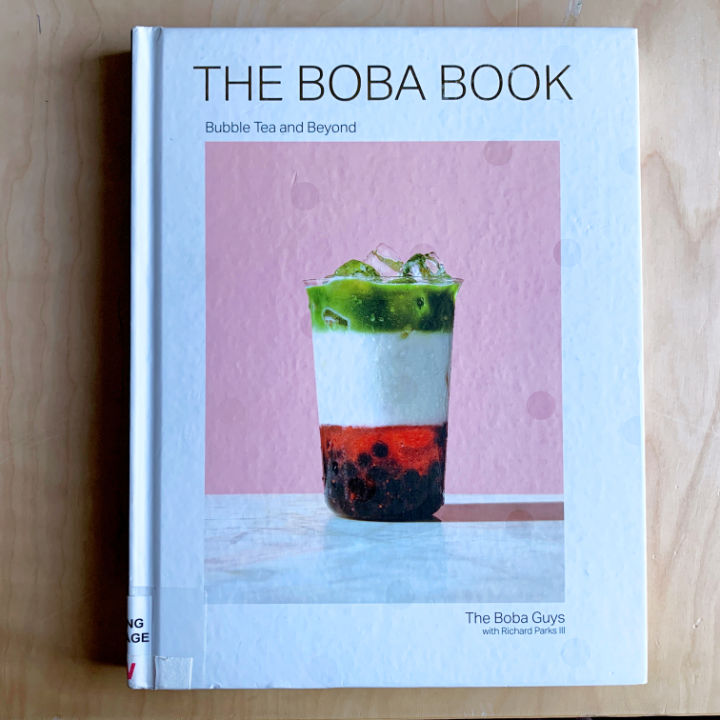 The Boba Guys
My favorite boba milk tea shop is The Boba Guys, in the San Francisco Bay Area. I am obsessed with their classic milk tea because it tastes SO unique and has a complex depth of flavor. Plus, they make their milk tea with tea leaves and real cream, not powdered stuff like other boba shops.
I modeled this recipe to taste like their amazing boba tea. And it's legitimately good and worth making!
This recipe was adapted from the one in The Boba Book. But I simplified it so that it's easier to make.
I also want to note that according to their cookbook, The Boba Guys uses premade tapioca pearls! So in this recipe, we will use premade boba as well.
What are the best tapioca pearls for boba?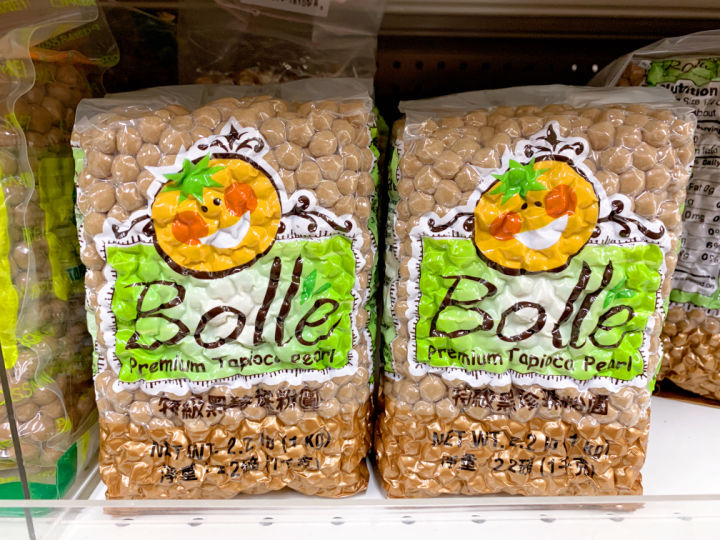 There are many different kinds of tapioca pearls. But I want you to focus on the ones that come in a vacuum sealed package, as they produce the best, chewy boba.
Bolle is a good brand as it tastes just like the ones from the boba shop. And it also has more natural ingredients than other brands.
Don't get the ones that are quick cooking or 5 minute tapioca pearls as they won't have the best consistency. Also, don't get the white or rainbow tapioca pearls, or sago because they cook differently.
What's the right consistency for perfect boba?
So, according to The Boba Book, the perfect boba feels like a warm, chewy gummy bear. If it's too hard, then it's not cooked enough. If it's too soft, then it's overcooked.
Yes, it's kind of like Goldilocks and the Three Bears. You have to get it just right! And when you do, it's heavenly!
Also, I want to add that after cooking boba a few times, it seemed like it was "too soft" after cooking, even though I cooked it correctly. But once I added it to the cold milk tea, it hardened up just a bit and became chewy and the perfect gummy bear consistency.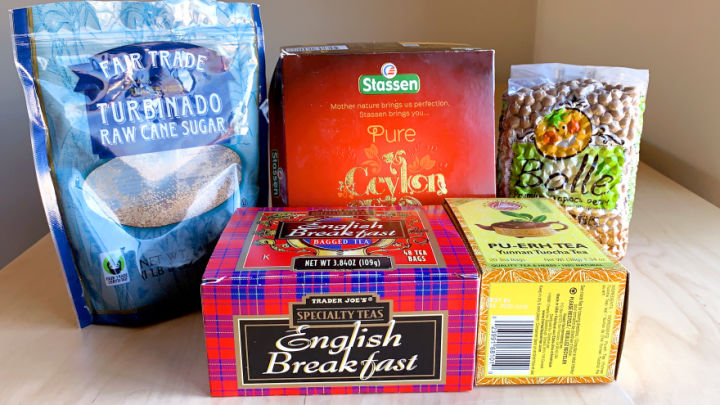 What kind of tea to use?
I'm not going to tell you to just get any old black tea because each kind of black tea has a unique flavor. It's not like Lipton black tea is going to taste like Yunnan Pu'erh tea.
Boba Guys does a blend of 3 different teas – Assam tea, Yunnan Pu'erh tea, and Ceylon tea. When you blend these 3 teas together, the result is a bold tasting, delicious milk tea unlike any other.
If you're feeling lazy, then 5 bags of English Breakfast tea will do but it won't have the same flavor.
Why so many tea bags?
Because the milk tea has to stand up to being iced. This recipe accounts for being watered down a little with ice. So it will still retain a bold flavor when iced.
Steps to Making Bubble Milk Tea
Before you get overwhelmed, I want to go over the process of making boba milk tea.
Cook tapioca pearls.
Make the tea.
Make a simple syrup.
Put it all together with ice.
Things to Know About Making Boba Milk Tea
When the boba is cooked, it must be used within 4 hours at room temperature.
Once you put it into the fridge, it will harden up and no longer be chewy.
Don't make this recipe with quick cooking or 5 minute tapioca pearls as they cook differently.
I am an Amazon affiliate and I will receive a small commission when you make a purchase through the following links, at no extra cost to you. Thank you!
What tools are helpful for making boba milk tea?
Reuseable Boba Straws – It makes it more fun to drink with boba straws.
Kitchen Scale – I use a scale to measure the ice by weight. A kitchen scale is indispensable and I have used it more than I thought I would!
Bubble Milk Tea Recipe Video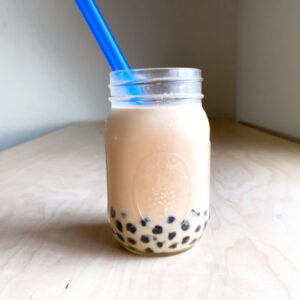 How to Make Boba Tea Like a Boba Shop
Make bubble milk tea just like from a boba shop. This recipe includes how to make tea and how to cook tapioca pearls.
Ingredients
SIMPLE SYRUP
6

tablespoons

sugar

white, brown, or turbinado

3

tablespoons

water
Instructions
HOW TO COOK TAPIOCA PEARLS
In a pot, boil water over medium heat. Add tapioca pearls and stir. Let it simmer and stir every few minutes to prevent tapiocas from sticking. Cover the lid when not stirring.

Simmer and stir for 20 minutes. Then turn off heat and let the cooked tapioca pearls sit in the pot, with the lid on for 25 minutes.

Drain the cooked boba into a bowl. Rinse a few times with running water and drain. Sweeten with 2 tablespoons or more of simple syrup.
CLASSIC MILK TEA
In a pot, bring the water to boil. Then pour hot water into a cup. Add tea bags and steep for 4 minutes. Remove tea bags.

Note: As a substitution, you can use 5 bags of English Breakfast Tea, although mixing the teas tastes that much better!
SIMPLE SYRUP
In a pot, boil water and sugar. Heat and stir until the sugar is completely dissolved. Remove from heat.
PUTTING TOGETHER YTHE BOBA MILK TEA DRINK
In a large cup (16 oz or larger), measure 4 oz. of ice. Add the tea, boba, and cream. Sweeten as desired with simple syrup.
Notes
If making more than 1 cup of bubble milk tea, be sure to follow the recipe and use 4 tea bags per 1 cup of water per serving. This is so that your milk tea flavor won't be diluted.
Please LEAVE A STAR RATING and COMMENT! Help GET THIS RECIPE FOUND by more people.
This post contains affiliate links. When you make a qualifying purchase, I will receive a small commission at no extra cost to you.
This recipe was adapted from the Boba Guys cookbook, The Boba Book.
WHERE TO BUY
Pin for Later:
You might also like: