Now that Labor Day has passed, it's time to think about the holidays.
And it's not too early to start thinking about Christmas.
In fact, it's the perfect time.
A reader asked, "How do I save up for Christmas for my 5 grandkids on a limited income?"
If you're on a limited income, are a stay-at-home-parent, or simply want to earn free gift cards for Christmas, I'd suggest checking out Swagbucks.
I love ordering Christmas gifts from Amazon because there's truly something for everyone and you can get it delivered to you or the recipient.
Swagbucks is a site where you do tasks like take surveys, and complete offers in order to earn points. Once you have a set amount of points, say 300, you can earn a $3 Amazon gift card.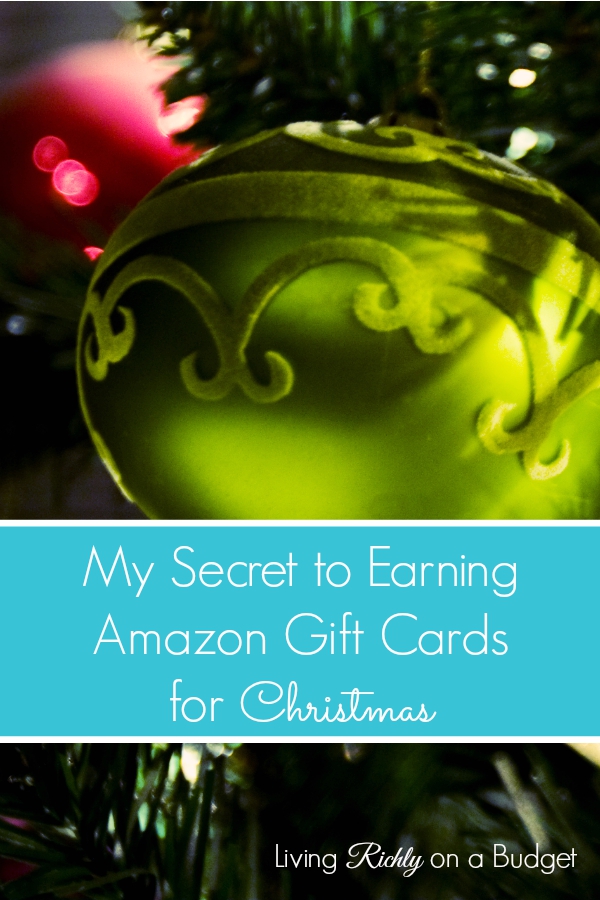 Please note that it takes a week or two to receive the gift card in the form of an Amazon gift code, to enter into your Amazon account.
Right now, you can earn bonus points when you earn a minimum number of points in a day.
I've been casually going on Swagbucks and have earned a $6 Amazon gift card twice in the past two months. I don't feel like I spent that much time either. I could earn more if I invested more time into it.
The quickest way to earn an Amazon gift card is to complete high value offers. There are offers that require a purchase that can earn you 500 points or more. Then there are other tasks that don't require a purchase like signing up for a newsletter, but those earn less points.
If you don't want spend money then check out my next tip.
My favorite ways to do this is to take the surveys, like the Peanut Lab surveys. Please keep in mind that you'll do a pre-survey where you answer a few questions before they can see if you qualify for the survey.
Sometimes pre-surveys, which take a minute or two will not lead to an actual survey because you don't qualify. Don't give up though. Keep trying.
My goal, when I use Swagbucks, is to give myself an hour to try to earn 100 points. That way, I'm not wasting time and I stay on target.
There are some offers that encourage a purchase and some that don't. Use your mouse to hover over the offer to read the terms before deciding if you want to complete that task.
Today, I earned 183 points in an hour. What I did was signup for a newsletter (30 points), complete a survey (36 points), add the Swagbucks app onto my browser (an easy 50 points), etc.
If you're home a lot and have some spare time, I think it's worth it. Look out for those easy tasks that earn 30 – 50- points, like signing up for a newsletter or installing the Swagbucks app on your browser.
You might also like 5 Quick Ways to Get Free Amazon Gift Cards.
This post contains affiliate links. When you click through the link, I earn a small commission that helps support this blog. Thank you!