Full Disclosure: I participated in an Influencer Activation on behalf of Influence Central for American Express Serve. I received a test card to facilitate my review as well as a promotional item to thank me for my participation.
So I've been thinking lately of how to stay under budget in certain areas, like groceries.
Sure, I can use cash but I don't always like to carry cash or make a trip to the ATM, especially with my 4 year old in tow!
I thought of opening another checking account, but checking accounts at major banks nowadays aren't free anymore.
When the opportunity came to try the new American Express Serve® Cash Back Card, I was super excited!
This would be a perfect way to stay under budget for groceries since there's no overdraft, like a checking account. What's loaded on the card is what's loaded on the card.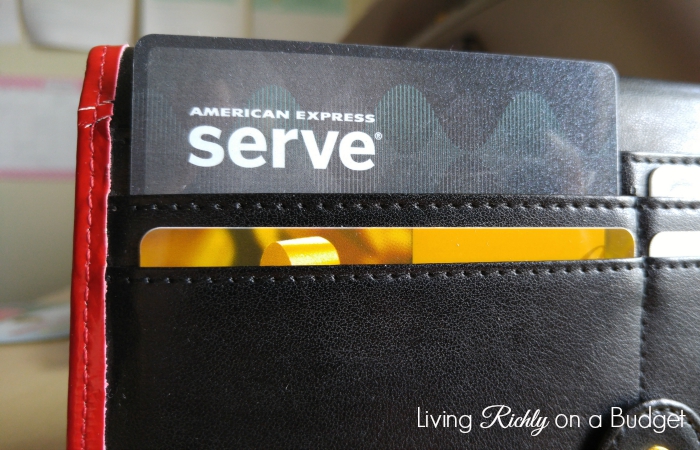 American Express Serve® Cash Back Card is the first prepaid debit card to offer cash back. With the American Express Serve® Cash Back Card, you get 1% cash back on purchases made in store or online. And the cash back is added to your account immediately after you earn it! Just log into your account to redeem your cash back.
The monthly fee is $5.95/mo. so when you use $600 or more a month, then you earn the fee back. You can load the card for free by doing a direct deposit from a checking account.
What's Cool:
No credit checks
No minimum balances or hidden fees
90 day purchase protection, protects eligible purchases made with the card against accidental damage and theft
I'm thinking this card would be perfect for college students who are living away from home, so parents can send them a set amount every month and they practice using a card and staying under budget.
Or if you're like me and you want to stay under budget in a specific spending category, like groceries or business expenses, this would be a great option.
Ready to snag your American Express Serve® Cash Back Card? Get it free when you register online here. Otherwise, you can purchase it at local retailers for up to $3.95.