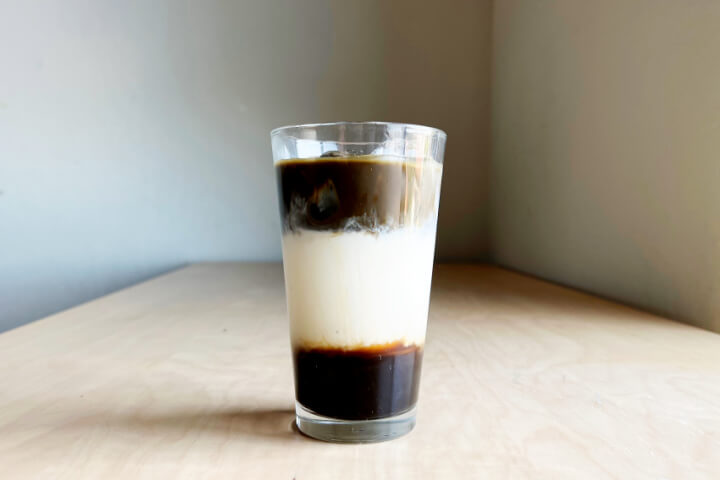 Make this delicious, yet lightly caffeinated hojicha milk tea boba in 5 minutes or less! It's a popular drink at boba shops that you can easily make at home!
To make this hojicha latte in 5 minutes or less, we are using hojicha powder and instant boba.
What is Hojicha tea?
Hojicha is a roasted green tea that tastes smoky and malty. It's not bitter like matcha so it doesn't need to be sweetened that much. And it doesn't have a lot of caffeine so it's great for those who need low caffeine alternatives. Learn more about hojicha with this guide to hojicha.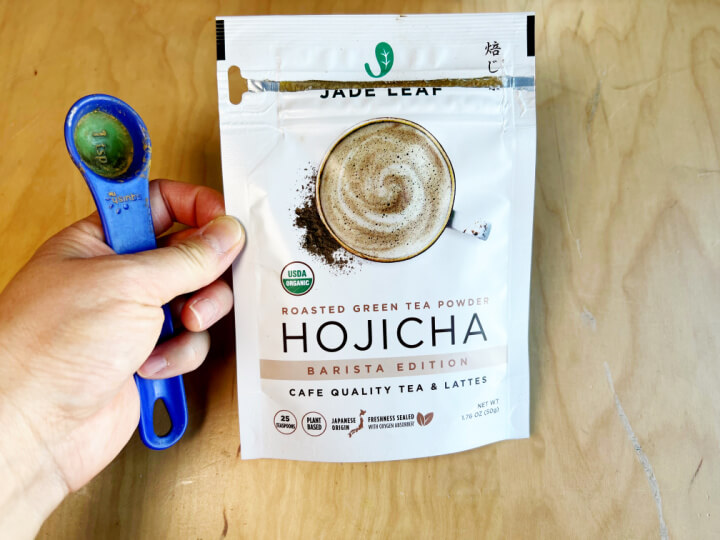 What is Hojicha Powder?
Hojicha powder is a ground up version of hojicha tea so that you can quickly make hojicha tea without having to steep tea bags. This is how we can make hojicha milk tea in 5 minutes or less.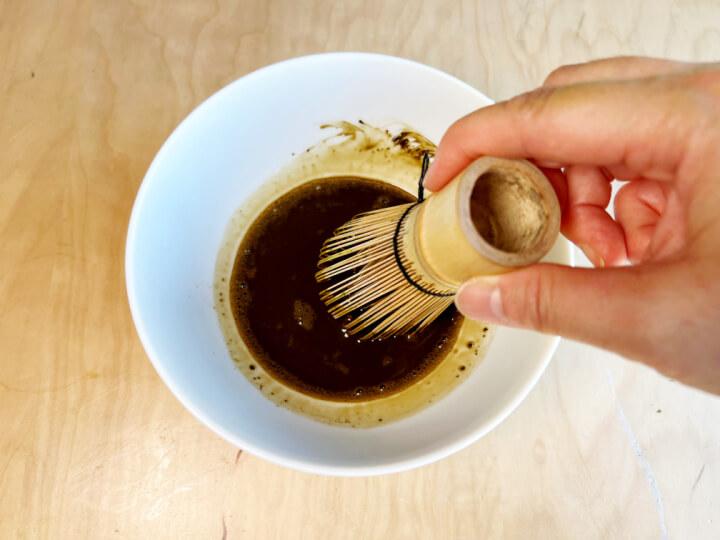 How to Prepare Hojicha Powder
Just like matcha powder, hojicha powder needs to be whisked with a small amount of water. Whether you're making iced or hot hojicha latte, you'll need to prep the powder the same way.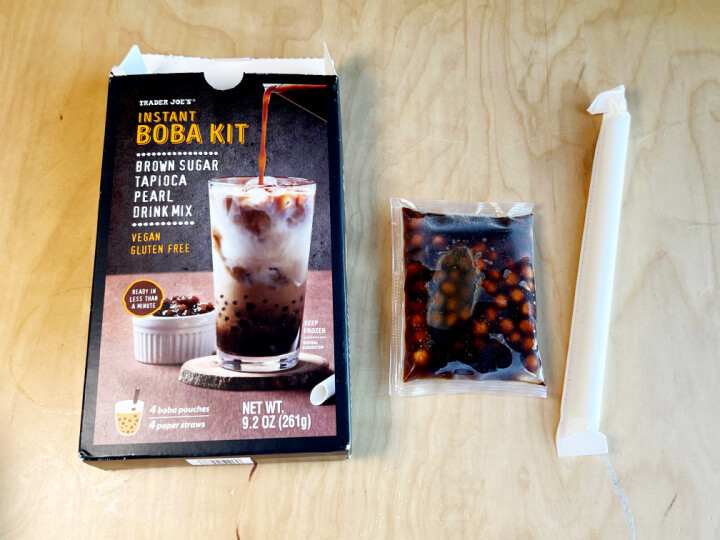 What is Instant Boba?
Instant boba is a quicker way to make boba at home. This instant boba kit from Trader Joe's can be found in the freezer aisle.
To prepare this instant boba, microwave the frozen pouch in a bowl for just 45 seconds. Then cool down with ice.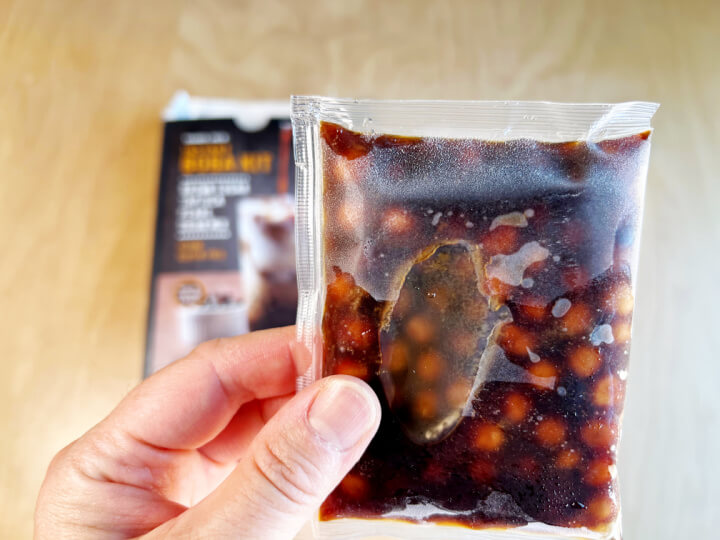 The common way to cook boba is to boil it and let it sit in the pot. The entire process takes 45 minutes! If you're interested in how to do it, check out my post on How to Make Boba Like a Boba Shop.
Most of us don't have the time or patience to cook it like that. So the alternative is to use instant boba.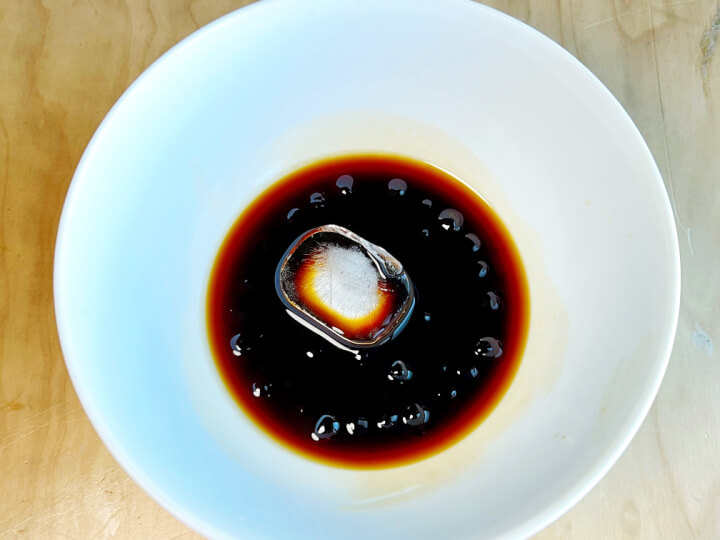 After microwaving the boba, it's best to cool it down with ice so that it can be ready for iced drinks.
Hojicha Milk Tea BobaRecipe
Prepare instant boba (optional)
Whisk hojicha powder with water.
Place boba into glass, if using.
Add ice.
Pour milk or milk substitute over ice.
Pour the hojicha mixture over the milk.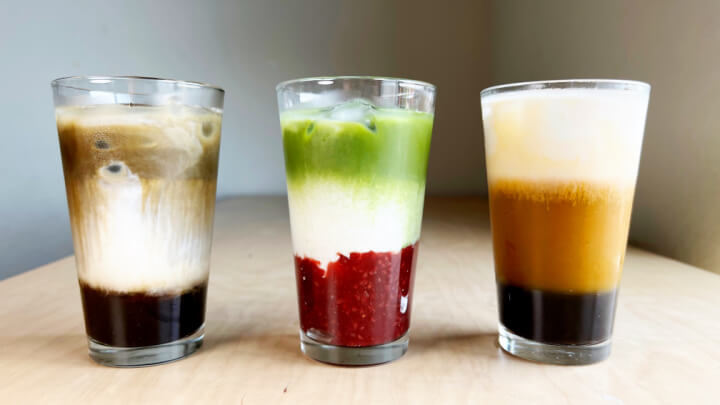 How to Pour Layers
Here are my pouring tips:
Be sure that all liquids are cold or room temperature, not warm or hot.
Make sure the drink has lots of ice, at least 2 inches over the bottom layer.
Use a measuring cup with a spout or milk frother cup to pour so that the liquid comes out in a narrow stream.
Pour over 1 ice cube only. If the ice cube starts moving while you are pouring, then follow the ice cube.
Check out my other 5 minute boba recipes.
Watch the Video for Step by Step Tips on YouTube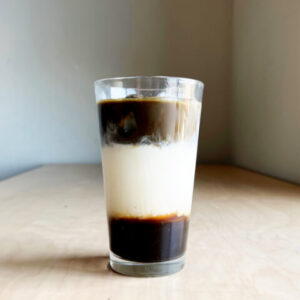 Hojicha Milk Tea
Make this delicious, lightly caffeinated roasted green tea as a latte.
Ingredients
Trader Joe's Instant Boba

2

oz

water

2

tsp

hojicha powder

ice cubes
Instructions
Place instant boba packet into a bowl and microwave for 45 seconds. Remove from microwave. Open packet of boba mixture and pour into bowl. Add 2 ice cubes to boba mixture to help it cool down, about 1-2 minutes. Set aside.

In a cup or small bowl, pour water and add hojicha powder. Whisk with a bamboo or wire whisk until no lumps remain, about 20 seconds.
Boba Layer
Once the boba mixture has cooled down, pour it into a cup (without the ice that was used for cooling). Add ice cubes until the ice is at least 1 – 2 inches above the boba mixture.
Milk Layer
Now it's time to pour the second layer. Pour milk or milk substitute into a measuring cup or a pitcher with a spout. Pour the milk carefully, aiming at one ice cube, without moving. If the ice cube moves, then follow it but make sure the milk hits the ice cube first before it hits the boba.
Hojicha Layer
Pour hojicha mixture into a measuring cup or pitcher with a spout. Now pour the hojicha mixture while aiming at once ice cube, without moving. Serve. You did it!
Please LEAVE A STAR RATING and COMMENT! Help GET THIS RECIPE FOUND by more people.
This post contains affiliate links. When you make a qualifying purchase, I will receive a small commission at no extra cost to you.
Pin for Later: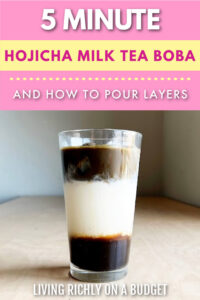 You Might Also Like: