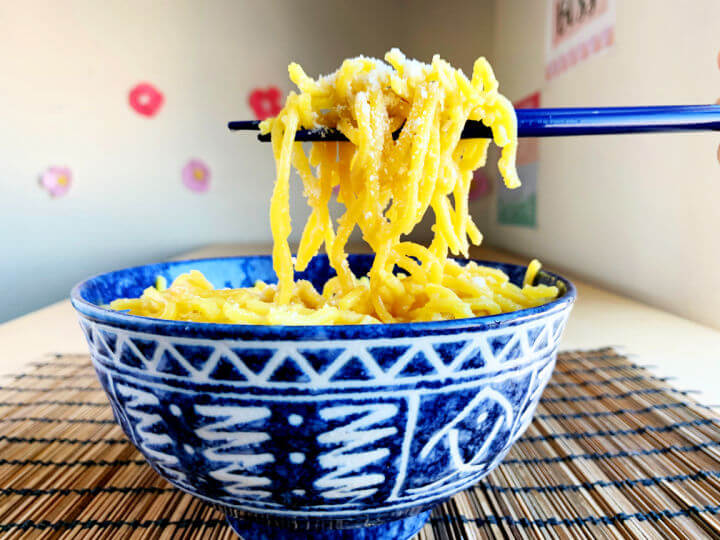 I grew up in San Francisco, living less than a mile from Thanh Long, a small Vietnamese restaurant, that became famous for their garlic noodles and crab. They also branched out to other sister restaurants – Crustaceans.
I first went to Thanh Long in the early 2000's, when my husband (then boyfriend), took me to the best restaurants. We were there for Dungeness crab but instead, fell in love with their garlic noodles! In my mind, I vowed to one day, recreate this secret recipe.
Thanh Long was a tiny chartreuse colored restaurant that lit up the corner of 46th Ave. and Judah St. in the outer Sunset district of San Francisco.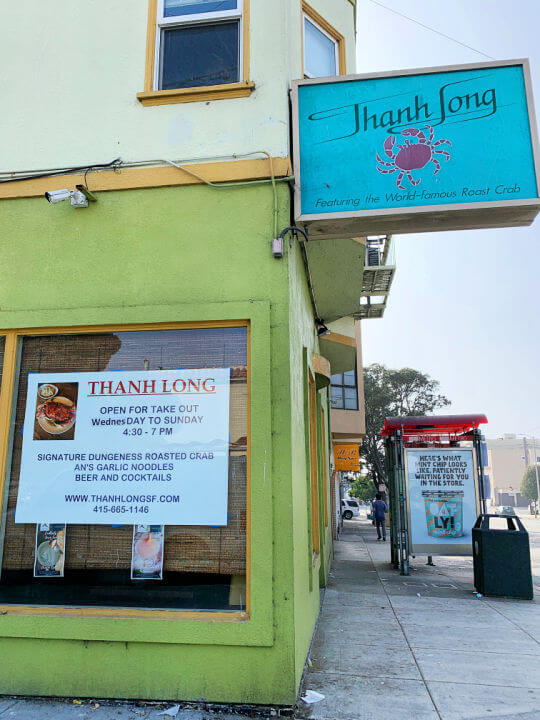 Back in the day, Chef Helene An ran the kitchen and her daughters were the servers. Their garlic noodles recipe is such a closely guarded secret that not even their kitchen staff knows the recipe!
Thanh Long has now expanded into a bigger space at its original location. And its sister restaurants, Crustaceans, are in San Francisco and Beverly Hills.
If you've ever tried their heavenly yet distinctive, garlic noodles, you're probably here to see if this recipe is it.
I'm here to tell you, that THIS RECIPE IS IT! It's the secret recipe or as close as I can get to Helene An's famous garlic noodles. And I have been trying for 20+ years to find this!
In the early days of the Internet, I found a recipe claiming to be these garlic noodles. It had a long list of 10 ingredients.
I bought those 10 ingredients and the noodles tasted nothing like Thanh Long's. So disappointing and a waste of ingredients!
Finally, after many fruitless attempts at making this famous garlic noodles, we have winner!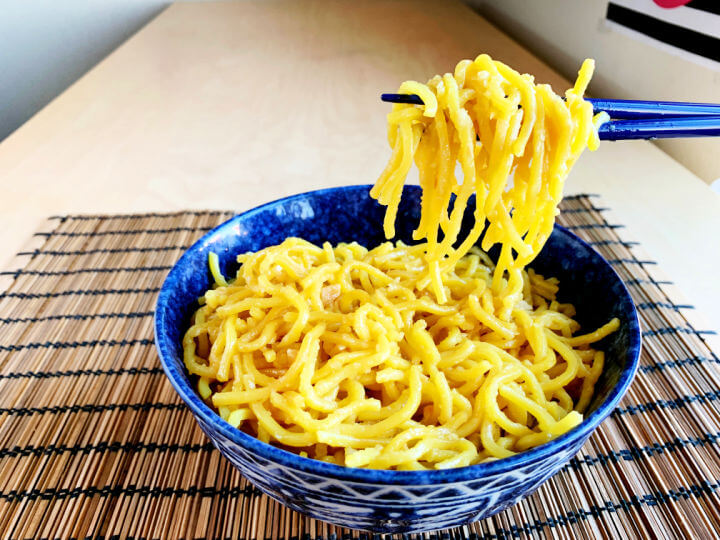 Before we dive into the recipe, I have to tell you the story behind these noodles so that you'll understand why these buttery, garlic noodles have these almost incompatible ingredients in it, like parmesan cheese and fish sauce?
Decades ago, Helene An's daughter took her to try Italian garlic spaghetti in San Francisco's North Beach district. After Helene tried it, she thought she could make it better so she went home and did just that. And Thanh Long's garlic noodles were born!
Thanh Long's garlic noodles are neither a traditional Vietnamese dish nor an American or even Italian dish. It's fusion.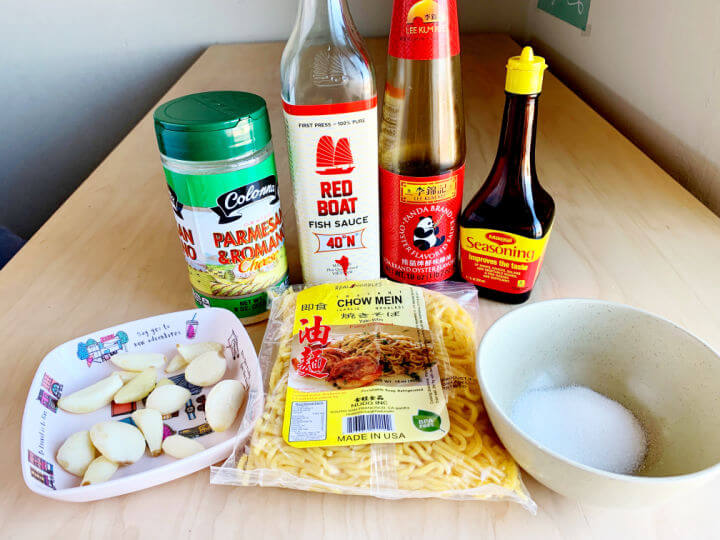 Vietnamese Garlic Noodles Ingredients
garlic
oyster sauce
fish sauce
sugar
Maggi seasoning
parmesan cheese
chow mein noodles
Somehow without the parmesan cheese, it does not taste right. And if you skip the Maggi seasoning like I did at first, it won't taste right either.
You need ALL of the ingredients. Don't skip anything!
Can I use spaghetti to make these garlic noodles?
I've seen many recipes tell you that you can substitute spaghetti noodles for these Vietnamese garlic noodles… And I'm here to say DON'T DO IT!
Please don't use spaghetti noodles in place of Asian noodles to make this recipe, otherwise, it will just taste like spaghetti with garlic and olive oil. That's exactly what my in-laws said when they tried it with spaghetti noodles! They said it reminded them of spaghetti in Italy.
Our goal is to make it taste just like from Thanh Long restaurant. And they don't use spaghetti to make their garlic noodles.
You wouldn't make spaghetti with pho noodles, right? If you're going to the trouble to make this recipe right, use the right kind of noodles!
You're probably headed to the Asian grocery store anyway, to pick up fish sauce and oyster sauce. So pick up the egg noodles while you're there.
The right kind of noodles to use are Asian chow mein noodles, yellow noodles meant for stir frying.
Chow mein noodles are moist and springy and absorb the garlic flavor and oil/butter well. The right kind of noodles makes a HUGE difference.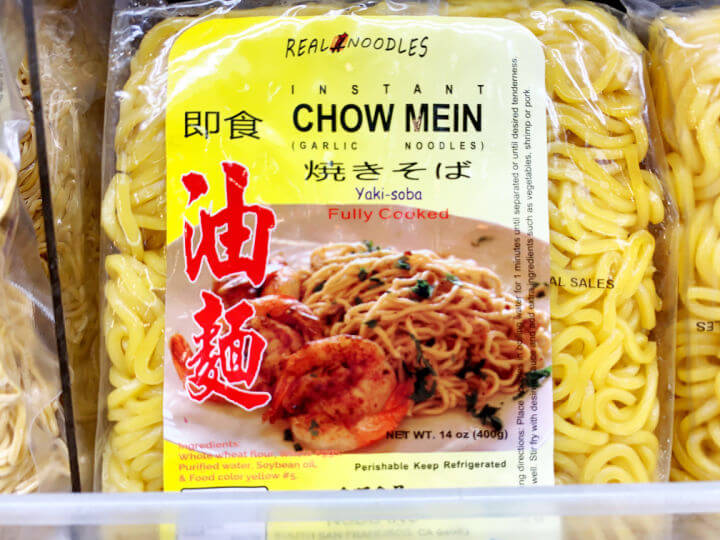 How do I know they are chow mein noodles?
It will say so on the package and the main ingredients are whole wheat flour, eggs, oil, and yellow food coloring. Look in the fridge section of your local Asian grocery store for fresh, pre-cooked chow mein as they will be easier to work with.
Some people prefer these garlic noodles made with Shanghai noodles because there's a meatier bite to it. The main difference between chow mein and Shanghai noodles is that the Shanghai noodles are thicker and the texture is more al dente.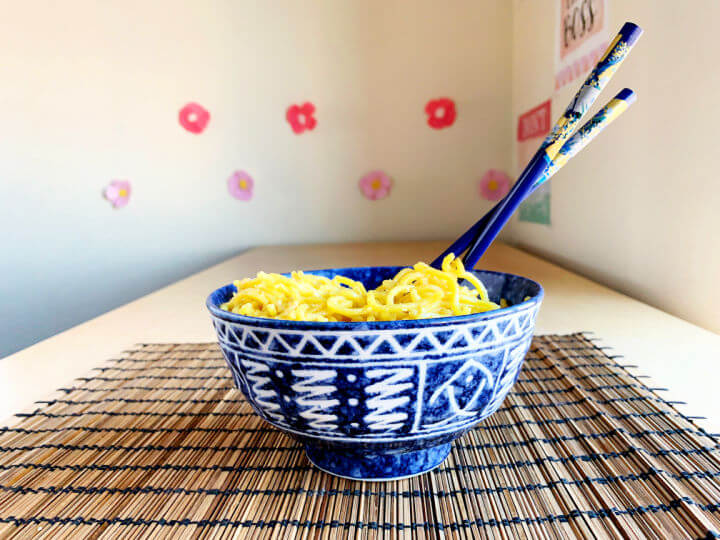 Garlic Noodles Shortcut
The most tedious part of making these garlic noodles is peeling and chopping garlic. If you want to save time, get already peeled garlic and chop it yourself.
Or use Dorot Crushed Garlic. It's frozen in cubes and you take out what you need. No chopping needed!
And when you drop it in, it melts into the butter or oil.
Do I use butter or oil?
You can use unsalted butter or a neutral flavored cooking oil. I've tried both but like cooking with oil slightly better because you don't have to wait until the butter melts or worry about the butter burning.
What's Maggi seasoning?
It's a flavor enhancer used in a lot of Asian cooking. Maggi seasoning comes in a container that looks like a genie bottle and it contains MSG.
I was afraid to use it at first because I try to avoid MSG when I can. But without Maggi seasoning, the garlic noodles don't taste right.
Maggi seasoning is also high in sodium so a little goes a long way.
Can I substitute something else for Maggi seasoning?
I'm gonna say no. There is nothing like Maggi seasoning! It adds a unique flavor that can't be replicated with anything else.
If you don't have it and can't find it in stores, you can buy it on Amazon.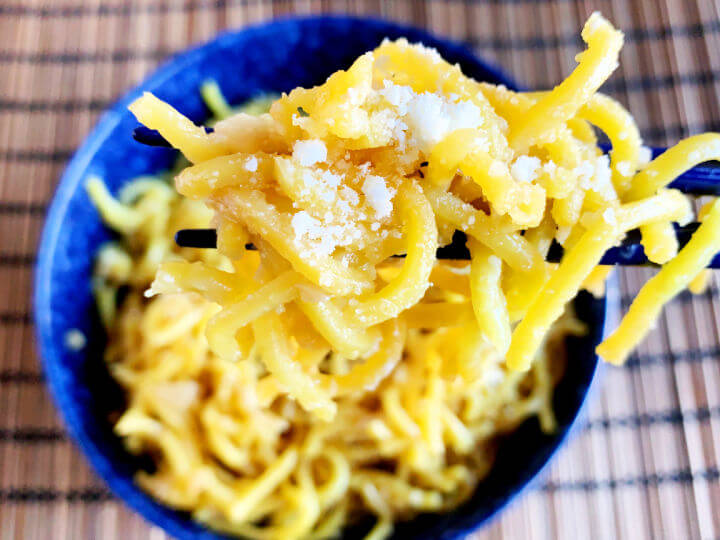 Vietnamese Garlic Noodles Recipe Video
Check out these other recipes: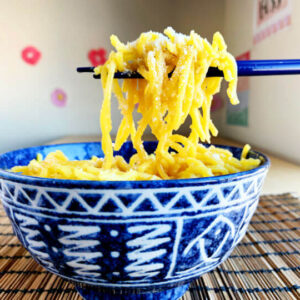 Vietnamese Garlic Noodles (Like Thanh Long)
Make garlic noodles just like from Thanh Long restaurant in San Francisco.
Instructions
Bring a small pot of water to boil over a stove. Add in fresh chow mein noodles and with a fork, gently stir the noodles until they separate. It should take about 2 minutes. Drain noodles and set aside. (If you are using another kind of noodles, always follow the cooking instructions on the package.)

In a large sauce pan or wok, heat butter or oil. If using butter, heat the pan on low heat in order not to burn the butter. When the oil starts to shimmer or the butter has melted, add in minced garlic. When the garlic starts to brown and become fragrant, add in fish sauce, oyster sauce, sugar, and Maggi seasoning. Then add the noodles and stir for a minute to combine.

Turn off heat and add parmesan cheese to the noodles. Stir well. Serve while hot.
Notes
If you are using dry or uncooked noodles, follow the cooking directions on the package. There are SO many different noodles at the Asian grocery store!
Please LEAVE A STAR RATING and COMMENT! Help GET THIS RECIPE FOUND by more people.
This post contains affiliate links. When you make a qualifying purchase, I will receive a small commission at no extra cost to you.
Pin for Later: