Pork belly may seem like a complicated dish to make but it's super simple in the Instant Pot or pressure cooker, not to mention, it's super delicious!
In this video for Instant Pot Pork Belly, I'll go over all of the ingredients and the optional steps you can take to make it taste even better.
I fell in love with pork belly when I found it at my favorite food trucks. It's tender, juicy, succulent and yes, fatty! Hey, fat has flavor!
And yes, it literally melts in your mouth. Are you salivating yet?
Sorry, if you are watching your diet but I feel like fat is good for you because you need fat to absorb certain nutrients.
Try these other Instant Pot Recipes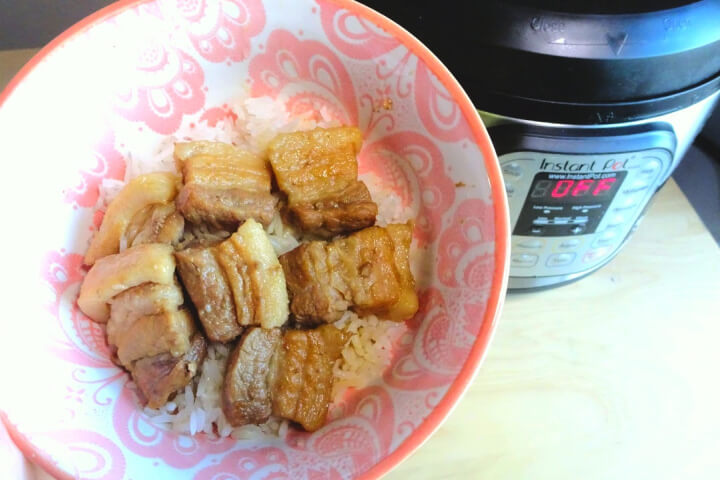 I NEVER thought I would ever cook my own pork belly! It's one of those dishes that I would buy from food trucks or restaurants because it seemed to hard to cook.
But once I got my Instant Pot, a lot of doors opened! And I found out that I could cook pork belly easily and with only a few ingredients and make it taste just as good as from a food truck! Whoah!!! That was so mind-blowing!
And I'm not just saying this. I had a lot of people try my pork belly – my kids, husband's co-worker, my in-laws (who are quite finicky when it comes to food), my nephew who doesn't eat a lot of meat, and you get the point.
Basically, this recipe for braised pork belly pleases a lot of picky eaters! I will add that my dad commented that the sauce is a bit oily and he wanted to add a certain Chinese vegetable to soak up the oil, but that's because the fat rendered into the sauce.
Honestly, if you were afraid of fat, you wouldn't be reading this!
What is Pork Belly?
Pork belly comes from the underside of the pig, much like bacon. It has a layer of fat next to the meat and you can eat both.
Pork Belly vs. Bacon
Pork Belly is:
Bacon is:
Cured with salt, but can be uncured too
Smoked
Thinly sliced
Because of these differences, you have to cook pork belly a little differently than bacon.
What are the benefits of cooking Pork Belly in the Instant Pot?
Without the Instant Pot, you'll have to cook pork belly by simmering it over the stove for 2 – 3 hours! This way, the pork tenderizes, making it soft to the bite. Then season it, and crisp it in a pan.
You can also just pan fry raw pork belly. But then it becomes super hard because pork belly is thick.
It's not thinly sliced like bacon. So it's hard to eat and not really enjoyable.
In the Instant Pot, you can cook pork belly for just 20 minutes (after the Instant Pot comes to pressure) and it will come out tender and juicy! 20 minutes in the Instant Pot vs. 2 -3 hours over the stove? You decide!
What does "braised" mean?
Braising is a cooking method where you brown or sear the meat then finish cooking it in a pot with liquid, to develop flavor and to tenderize tough cuts of meat. Braising works really well for pork belly.
Do you need to brown the Pork Belly before cooking?
No, but it adds more flavor. And browning the meat before cooking it in the Instant Pot is part of the braising process.
You have the option to brown the pork on saute setting in the Instant Pot. No need for a separate pan.
Sautéing will take about 5 – 10 minutes, depending on how much pork belly you have. Work in batches if you are doubling or tripling the recipe.
So pan fry a little at a time, remove from pot. Then add the next batch. When it has all browned, add all of the browned pork belly back into the Instant Pot.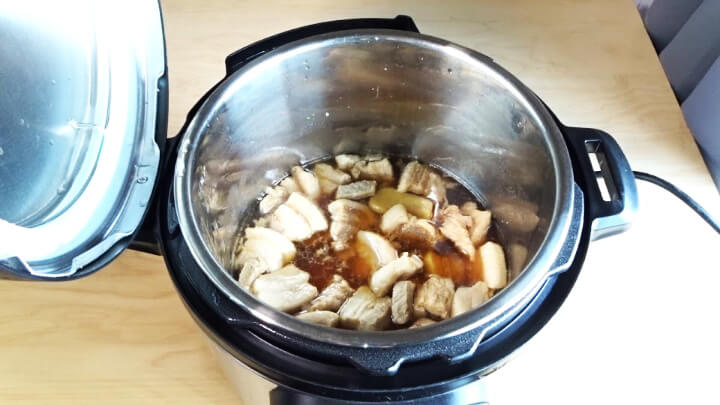 How to thicken the Pork Belly sauce
Also, I have added the step of boiling down the sauce after the Pork Belly has finished cooking in the Instant Pot. This will thicken the sauce to the texture most people are looking for.
Honestly, I don't think anyone wants watery sauce! So it can take 10 – 45 minutes to boil down the sauce, depending on how much pork belly you have.
When I double the recipe, it takes 20 – 30 minutes to boil down the sauce. When I triple it, it takes more than 30 minutes. Keep this in mind when you're making this recipe.
You'll know the sauce is ready when the volume of liquid decreases and the sauce gets darker. Get a spoon and scoop it up and you'll see a thicker, richer sauce.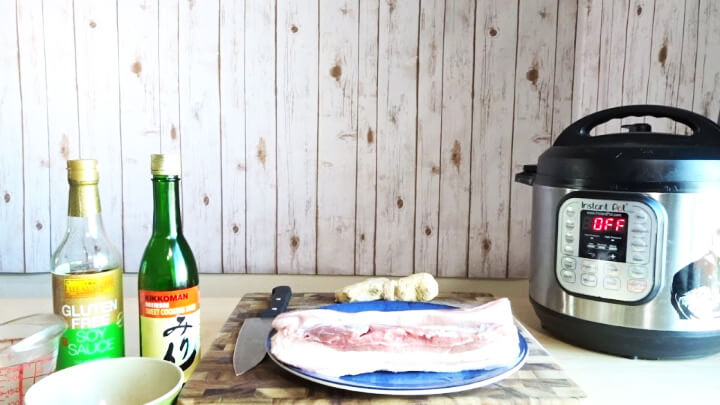 This Instant Pot Pork Belly recipe only requires a few ingredients:
ginger
soy sauce
cooking sake
water
pork belly
That's it! I wanted a super easy recipe for pork belly that didn't require a ton of ingredients and wasn't too complicated.
Let me know what you thought of this recipe! Please leave a review in the comments below.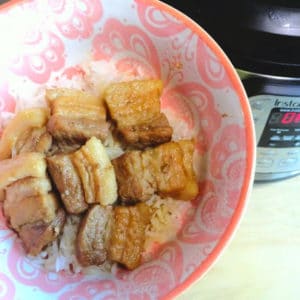 Instant Pot Braised Pork Belly
Pork belly is easy and quick to make in the Instant Pot. Really! And it's insanely good!
Instructions
(Optional) Brown pork belly in the Instant Pot, on Saute MORE setting. You may have to manually select MORE when choosing saute to get to this setting.

Add all ingredients into the Instant Pot. Close lid and set to sealing. Cook at high pressure for 20 minutes.

When the Instant Pot is finished, do a quick release. You can serve the pork belly or continue to the next step.

(Optional) Boil pork belly for 10 minutes on saute more setting until sauce thickens and darkens.

Notes for thickening the sauce

Double the Recipe: takes 20 - 30 minutes

Triple the Recipe: takes 30 - 45 minutes

You'll know it's done when the sauce decreases in volume and looks darker.
Please LEAVE A STAR RATING and COMMENT! Help GET THIS RECIPE FOUND by more people.
This post contains affiliate links. When you make a qualifying purchase, I will receive a small commission at no extra cost to you.
Pin this for later: