Century egg jook or porridge is a Chinese comfort food that reminds me of childhood. Yes, it's black and smells like a rotten egg but it's a Chinese delicacy.
I wasn't fond of it when I was growing up but now I crave it. And this is the same with bittermelon.
What is century egg? It's a duck egg that's been preserved for at least 6 months. I'm guessing it was a popular way to preserve eggs in China, when there was no access to refrigeration.
You can find century eggs in the Asian grocery store. If you want to sub it out for something else, no egg is needed in jook. You can make it with just the salted pork. But a hard boiled egg can be subbed for the century egg, as well.
To be clear, you need some sort of meat to flavor the jook. So if you are leaving out the egg, at least have the pork in it or use chicken.
Before the Instant Pot, I would make porridge on the stove and have to watch it the whole time!
Now with the Instant Pot, I can drop in all the ingredients and go do other stuff like take care of my baby or fold laundry.
This is an easy Chinese Instant Pot recipe that anyone can do.
Since getting the Instant Pot, I make century egg porridge only in the Instant Pot since it's so much easier. Drop in the ingredients and go! No more nursing a pot over the stove.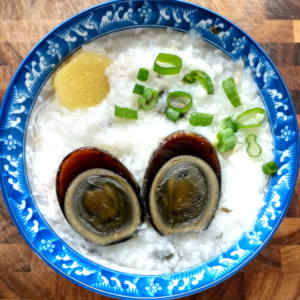 Instant Pot Century Egg Jook or Porridge
Century Egg Jook is an Asian comfort food. It's good when you're sick or just want something warm in your belly. With the Instant Pot, it makes it soooo much easier to make jook as you don't have to worry about anything boiling over.
Instructions
In the Instant Pot, add rice and water. Then add in the pork loin and ginger slices.

Close the lid and put the knob on sealing. Press the porridge button or do 20 minutes of high pressure.

When the pot is finished cooking, do a natural release. If you can't wait for the full natural release, do at least a 10 minute natural release, then do a quick release.

Open the lid and add in the century eggs, stirring and crushing with a serving spoon. Then garnish or add in green onions. Salt to taste.
Please LEAVE A STAR RATING and COMMENT! Help GET THIS RECIPE FOUND by more people.
This post contains affiliate links. When you make a qualifying purchase, I will receive a small commission at no extra cost to you.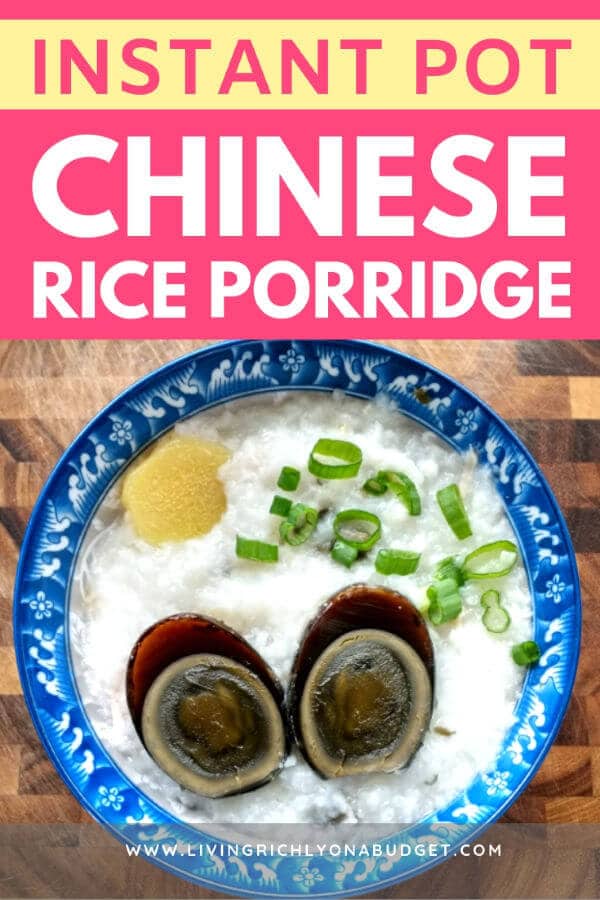 You might also like:
Chinese Stir Fry Glass Noodles