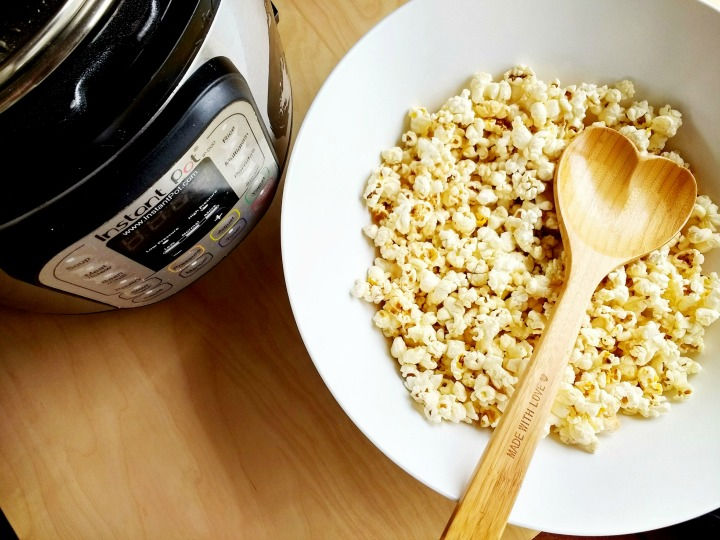 Instant Pot Popcorn is surprisingly easy to make, if you know the trick. I tried times to make popcorn in my Instant Pot, but failed to yield the motherload of popcorn that I've yielded in the past from making it on the stove.
Why make popcorn in pressure cooker vs. the stove? The temperature is more consistent in the Instant Pot, plus the butter gets infused better in the Instant Pot.
How to get the most popped kernels?
The key to getting the most popped kernels is using the right kind of oil and not adding butter! In my video, I used butter. But not everyone has had luck with it.
Since then, I have tried Instant Pot popcorn WITHOUT the butter and it made a HUGE difference! Most of the kernels popped!
Here are other things to consider:
Use fresh popcorn kernels.
As the popcorn kernels get older, they don't pop as well. So if you end up with a lot of unpopped kernels, try a fresh container of kernels.
Make sure all of the kernels are covered in oil.
It's imperative to make sure every single kernel is well coated in oil so that it has a good chance of popping.
Spread the kernels evenly in a single layer in the Instant Pot.
The reason that the recipe calls for just a measly 1/2 cup of kernels is so that you can get an even layer of kernels covering the bottom of your Instant Pot.
This recipe was tested in a 6 quart Instant Pot. In an 8 quart or another size, the amount of kernels to use will be different. I haven't tested with other sized Instant Pots so I can't specify what amount to use.
So do a test batch first before you make it for the family.
Don't add butter while cooking.
Again, don't add butter in the Instant Pot. Add butter after the popcorn has finished cooking, for flavor.
The Right Kind of Coconut Oil to Use
I looked at a lot of other recipes and they all say to used coconut oil but don't go into detail as to what kind. Does it matter? Yes, it does!
There's a difference between refined and unrefined coconut oil. Refined coconut oil is the one to use to make popcorn as it can handle higher temperatures.
Refined coconut oil also has a neutral flavor. Unrefined coconut oil tastes well, coconuty, if that's a word.
The first 4 times I made Instant Pot Popcorn were failures, with only 2 cups of popcorn and lots of unpopped kernels. I used Trader Joe's coconut oil, which was unrefined. This whole time I thought all coconut oil could handle high heat but I learned a lot from this failure.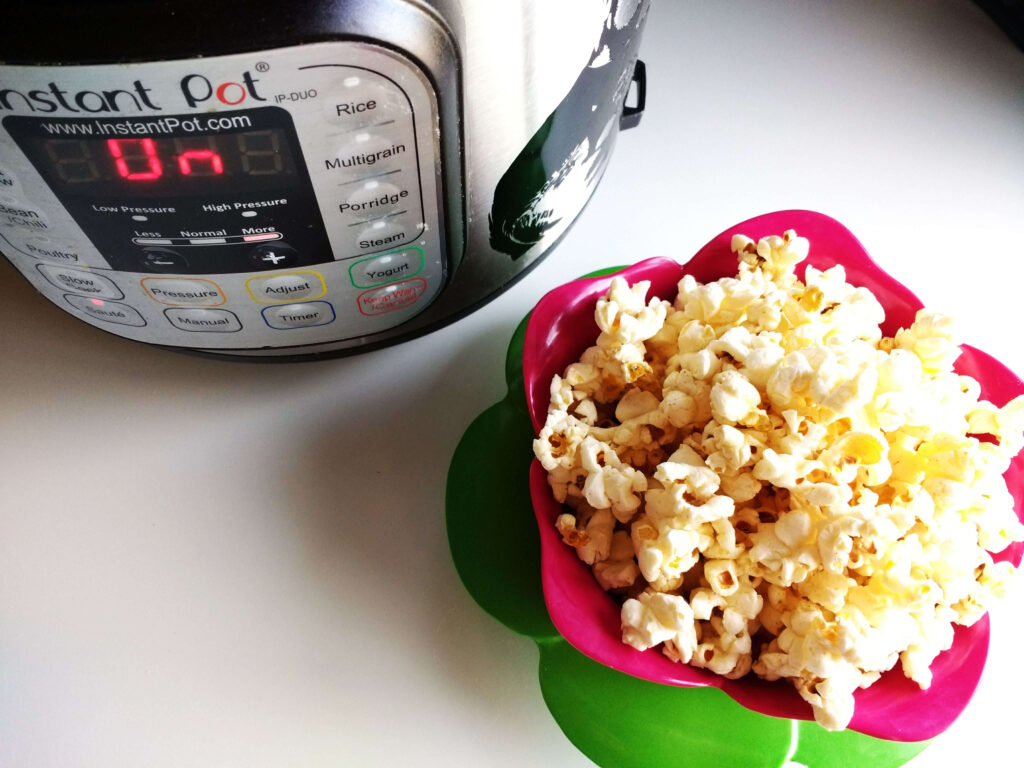 Pressure Cooker Popcorn with Ghee
Next, I tried ghee since it can handle higher temperatures and to my surprise, the popcorn popped better! Then I finally got my hands on refined coconut oil and got similar great results.
Instant Pot Popcorn without Coconut Oil
If you want to make Instant Pot Popcorn without coconut oil, you can use any oil with a high smoke point. Vegetable, canola, or avocado oil will work as well.
What kind of lid to I need?
The only special tool you need to make popcorn in the Instant Pot is a lid. You might have a lid that fits the Instant Pot or buy one on Amazon here. (affiliate link)
I prefer a clear glass lid so that I can see what's going on inside.
Instant Pot Popcorn Recipe Video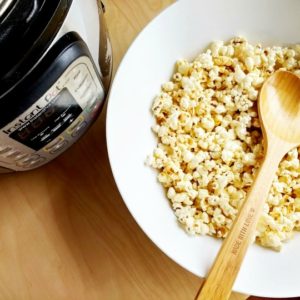 Instant Pot Popcorn
Popcorn in the Instant Pot? Why I don't mind if I do! With the Instant Pot, so many things are possible. Find out my tips on getting the most popped kernels for this Instant Pot Popcorn.10
Instructions
Turn on the saute button and select more. When the display says HOT, add in the coconut oil and mix.

After a minute, pour in popcorn kernels. Stir until all popcorn kernels are covered in oil. Make sure that the kernels are in a single layer.

Close the lid. Wait for the popcorn to start popping. It may take 1 – 3 minutes.

When the popcorn has slowed down or stopped popping for about 30 seconds, then press the cancel button to turn off the Instant Pot. Let the pot cool off and settle before opening lid. Be careful when removing the lid.

Pour melted butter and salt over popcorn.
Notes
I have made this popcorn many, many times and sometimes it would pop more kernels and other times, it would leave a lot of unpopped kernels. People have told me that the butter burns when they try it. So I have removed the step about adding butter to the Instant Pot, although it's still shown in my YouTube video. It's better to leave out the butter, as the butter can burn and interfere with the process of popping corn. 
Please LEAVE A STAR RATING and COMMENT! Help GET THIS RECIPE FOUND by more people.
This post contains affiliate links. When you make a qualifying purchase, I will receive a small commission at no extra cost to you.