This Instant Pot Chicken Thighs recipe is an easy first recipe when you're trying out your Instant Pot.
You won't end up spraying your ceiling with ingredients, like you might with other recipes. It's easy to make, super delicious, and uses ingredients you can find in your pantry and fridge.
Watch the video above to see how to make these Instant Pot Chicken Thighs.
Serve them over rice and your favorite veggies.
This Instant Pot Chicken Thighs recipe is my go to recipe and family favorite when I can't think of what to make. It started out from a Rachel Ray recipe of pan frying the chicken first.
Over the years, I have simplified this recipe since I have kids now. Now, instead of the time consuming process of browning the chicken thighs in a skillet first, I have found that broiling them after, yields similar results, with less effort.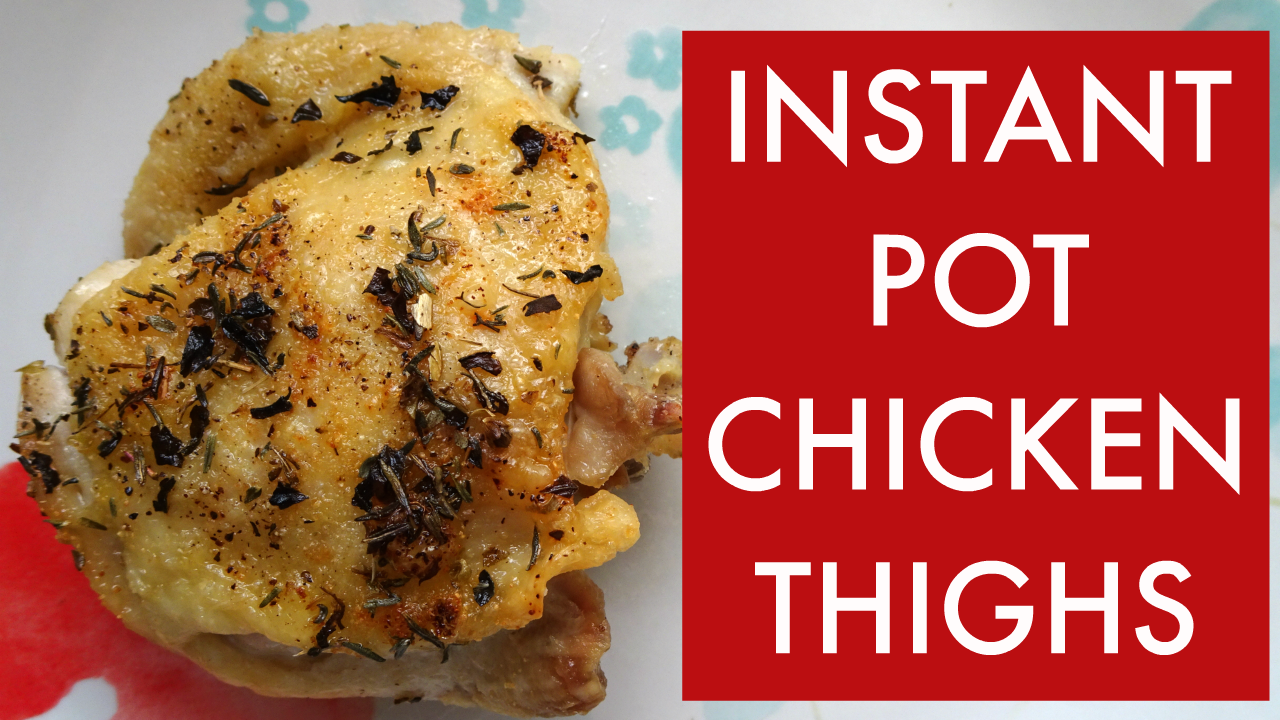 The extra step of broiling the chicken thighs at the end will help crisp the skin. And the herbs and crispy skin put this simple chicken recipe over the top, flavor-wise.
Sometimes the crispy chicken skin is the only thing my daughter will eat. So this Instant Pot Chicken Thigh recipe is kid-friendly and great for serving to dinner guests.
All you need is salt, pepper, herbs (optional), and cooking oil to make these delicious herb roasted chicken thighs. I've been cooking herb roasted chicken thighs solely in the oven for over 10 years and it takes 45 minutes!
It's a bit faster in the Instant Pot and just as tasty. And these herb roasted chicken thighs are versatile.
Make a whole batch and the leftovers can be repurposed into salad, noodle soup, fried rice, tacos, or whatever you want.
Why chicken thighs? It's lower priced than chicken breasts and tastier. If you're on a tight budget, you'll get more meat for your money.
If you enjoyed this recipe, please share it on Facebook and pin it on Pinterest so more people can enjoy it. Thank you!
Instant Pot Chicken Thighs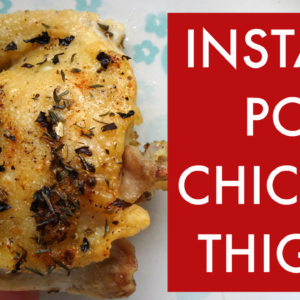 Instant Pot Chicken Thighs - Herb Roasted
If you're looking for an easy chicken recipe to try in your Instant Pot, look no further. This recipe includes common ingredients you'd likely find at home. And it's super delicious!
Instructions
Place trivet into Instant Pot and add 1 cup of water. Close the lid and set to sealing. Set to manual, high pressure for 12 - 15 minutes. (Please do a test and see if you like how your chicken thighs are cooked for 12 minutes vs. 15 minutes.)

When the Instant Pot has finished cooking, do a quick release. When the pin has dropped, open the lid.

Remove chicken thighs from Instant Pot and place onto a baking dish lined with parchment paper. Make sure thighs are bottoms up. Season with salt, pepper, and optional herbs.

Drizzle the top of the thighs with cooking oil. Broil on the top rack of your oven for 10 minutes.
Please LEAVE A STAR RATING and COMMENT! Help GET THIS RECIPE FOUND by more people.
This post contains affiliate links. When you make a qualifying purchase, I will receive a small commission at no extra cost to you.