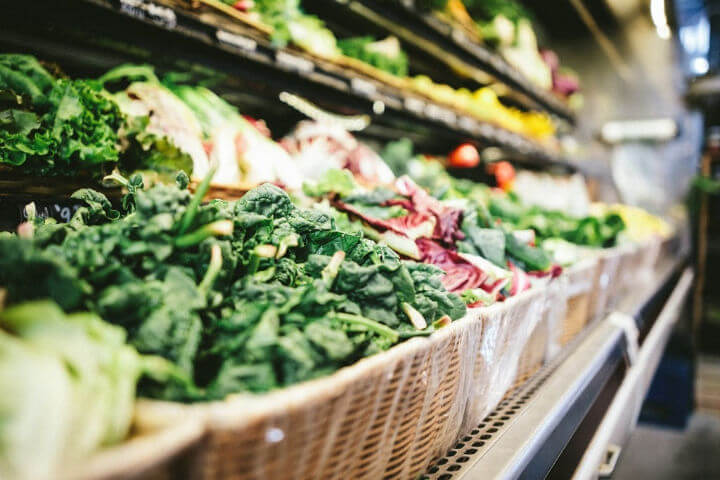 The COVID-19 pandemic has changed the way we eat, and consequently, how we purchase food. Buying groceries is an essential activity – everyone needs to eat.
With the increase in potential virus transmission from person-to-person contact in grocery stores, there has been a surge in on-demand food delivery service usage. With that said, here's how to grocery shop during the Coronavirus Pandemic.
(This is a guest post by Dr. Jennifer Camota Luebke.)
Instead of physically patronizing the local grocery store or farmer's markets for fresh produce and meats and going to Costco for bulk purchases, many people have decided to stay home and turn to food delivery services. Instead of purchasing food on-demand or just-in-time, more people have been filling up pantries and freezers.
The more popular on-demand grocery services such as Amazon Fresh, Whole Foods (via Amazon), and Instacart (which delivers from stores such as Costco, Sprouts, Safeway, BevMo!, and Target) have extremely limited delivery slots. Many of our friends have told us that it's almost impossible to get a coveted delivery slot within two weeks.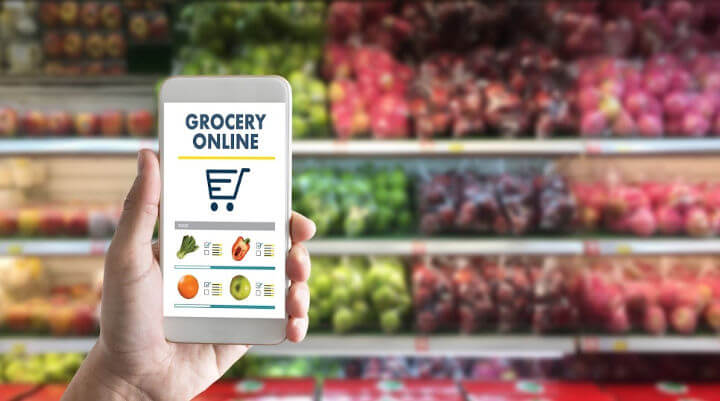 Restaurant delivery services such as UberEats and DoorDash are more reliable but ordering too often from restaurants can get expensive rather quickly.
Every household must function as one cohesive unit because each person in the household who is in contact with someone outside the household means that the entire household is exposed. I have asthma and a history of respiratory illnesses, so we as a family have to be extra careful.
Even though my husband and son do any and all of the physical grocery shopping and exercise safety precautions, there is the potential for them to not only become infected themselves, but also to become Covid-19 carriers and infect me. Therefore, we strongly prefer food delivery services and only go into a store as a last resort.
Before the pandemic, we were already doing about half of our food shopping through delivery services, but we've ramped it up since the shelter-in-place orders were announced.
How can we navigate the scarcity of on-demand food delivery slots? Here are six tips that our family has used during this pandemic to optimize food delivery services.
1. Leverage community knowledge.
Research the delivery options of alternative, predictable, automatic food delivery services for different categories of food that are working the best in your neighborhood.
We learned from scanning our NextDoor online community and through trial-and-error that there are three categories of food delivery services that have worked well for our zip code.
Pantry Items: Order from Thrive Market (where Costco meets Whole Foods) and Amazon Pantry. The wait times for pantry delivery are longer – one to two weeks.
Use these services to build up and replenish your pantry items such as pastas, oatmeal, protein bars, baking goods, spices, and canned foods such as garbanzo beans and tuna. You can also refill your inventory of household goods and toiletries using these services.
Bonus! Message me with your email address to receive a Thrive Market invitation code to get 25% off your first order up to $25!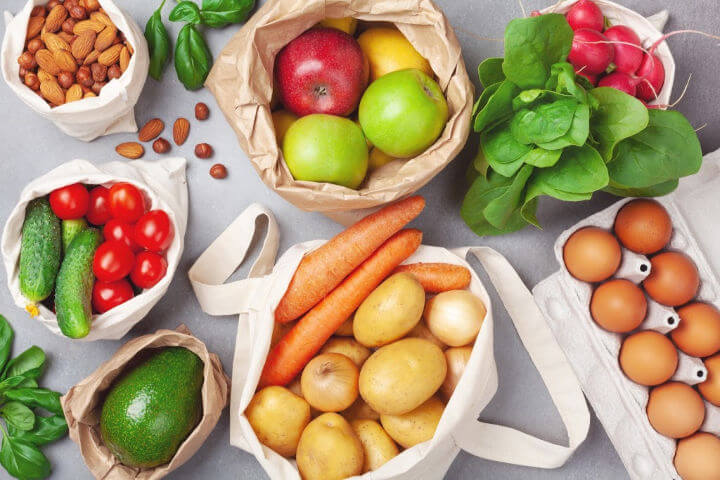 Fresh Produce and Proteins: Order from Imperfect Produce, Farm Fresh to You, Wild Alaskan Company (seafood), and Thrive Market (mixed-protein box). Receive organic and conventional in-season produce boxes and/or protein delivered right to your doorstep.
In addition to fruits and vegetables, Imperfect Produce has a variety of beef, poultry, and seafood choices, perishable dairy and refrigerated foods, and some pantry items as a la carte add-ons. Wild Alaskan offers a monthly box of high-quality, frozen-at-the-source seafood.
It's pricey, but it could be a nice mix to add to the monthly menu of lower-priced proteins. Thrive Market has a weekly protein box where you select six days of meat options such as boneless, skinless chicken breasts, baby-back pork ribs, and seafood.
Ready-Made Meal Delivery Services: Order from Freshly and Trifecta. Order a variety of fresh, ready-made, and affordable meals that you pop into the microwave.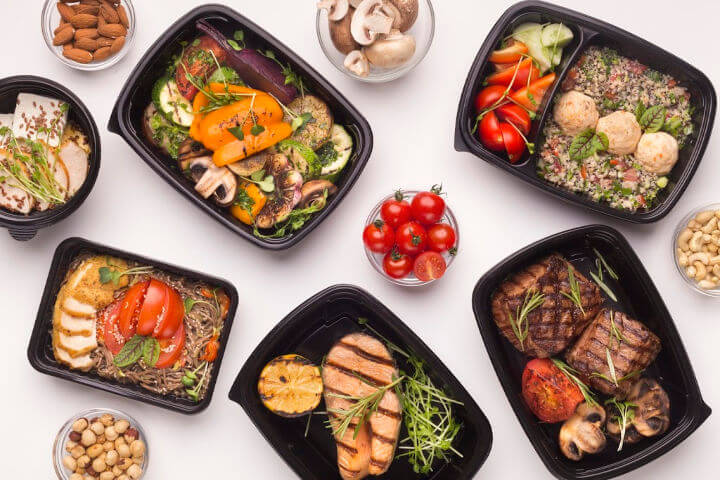 Before the Covid-19 pandemic, we used Freshly to send 6 meals a week to our son who is college across the country. He lives in an off-campus apartment and opted out of the on-campus meal plan.
He ate one Freshly meal a day for either lunch or dinner. We felt good knowing that he was eating at least one balanced, healthy meal a day, and he loved the variety and flavor!
We started ordering Freshly meals for us as well. My husband took it to work as an easy meal to warm up in the microwave. Trifecta is pricier and has specific diet meals for people on the Keto or Paleo plans, and who are vegan/vegetarian.
2. Plan your weekly eating strategy according to your family's needs and budget against the services in #1.
We plan for three meals and one to two snacks each day for each of the three of us at a budget of $1,800/month or $20/person/day. (Excludes wine, beer, and alcohol, which is a separate line item in our budget). We plan a weekly menu based on the portions below.
21 breakfasts/week = [1 breakfast/day] x [7 days/week] x [3 adults]
42 lunches or dinners/week = [2 lunch or dinner meals/day] x [7 days/week] x [3 adults]
32 snacks/week = [1.5 snacks/day] x [7 days/week] x [3 adults]
| | | |
| --- | --- | --- |
| 21 breakfasts fruit, loaded oatmeal, omelets, or waffles | Amazon Pantry / Thrive Market + Imperfect Produce / Farm Fresh to You | 21 |
| 42 lunches and dinners 4-6 oz. protein + vegetables and whole grain or brown rice carbs | Thrive Market protein box | 8 |
| Wild Alaskan Seafood | 6 | |
| Freshly | 12 | |
| Amazon Pantry / Thrive Market | 6 | |
| Imperfect Produce and/or Farm Fresh to You | 10 | |
| 32 snacks healthy shake, fruit + cheese, hummus, or peanut butter, protein bar, energy balls | Imperfect Produce / Farm Fresh to You + Amazon Pantry / Thrive | 32 |
3. Set up a schedule for your grocery deliveries.
Find out what days each of the services delivers to your neighborhood and the corresponding order window and add it to your calendar. Determine the number of servings you will need to order.
You may want to order enough to cover all meals. You'll have the flexibility to "eat out" by ordering from a restaurant using DoorDash or UberEats a couple of times per week if you have a craving for a type of food you don't typically make at home (for us it's sushi or Thai food).
You can also purchase additional food to freeze or store in your pantry for extra reserves.
#4. Re-package and prep your food according to your menu plan.
After unpacking the food, discarding the boxes, disinfecting the food packaging, rinsing off produce, wiping down surfaces, and washing your hands with soap and water, it's useful to repackage and prep your food according to your menu.
Not only will this make cooking more efficient, but it will also better utilize the space in your refrigerator and pantry. Cut up vegetables, put them in a freezer Ziploc, and label the package with the date. If fruit such as cantaloupes and bananas are about to go bad, cut them up and freeze them for shakes.
Leverage your inventory of frozen spinach, zucchini spirals, blueberries, and other frozen fruits and vegetables when fresh produce isn't available. Adjust your menu based on using what's the most perishable first before using freezer and pantry items.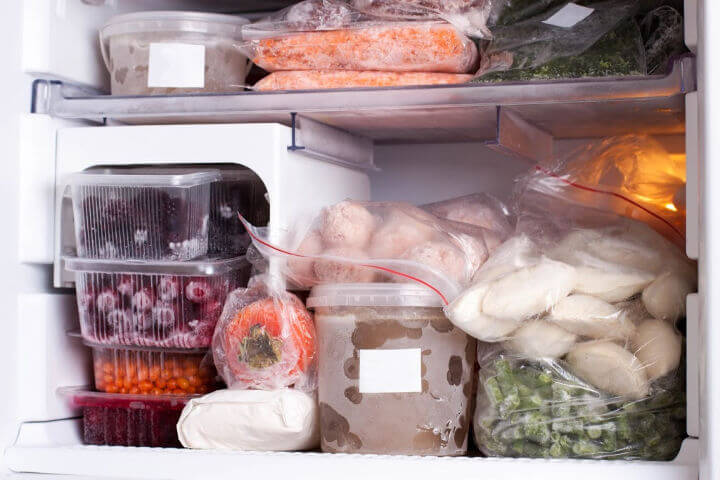 5. Have a backup plan when automatic orders aren't delivered or aren't delivered on time.
Grocery delivery services are struggling to keep up with the pace of growth during the Covid-19 pandemic. There has been the rare occasion where a service completely missed a delivery, or that delivered our food a day or two later than expected.
It's important to practice empathy for these businesses during this unprecedented time. It's prudent to order an incremental amount of extra grocery with each delivery to fill your freezer and pantry reserves from time to time in case you need to draw on those reserves.
6. Know who in your circle are vulnerable and offer to order extra food for them.
Additional food orders can be delivered directly to people whom you know in your circle or community who are in need of food. Your reserve can also be delivered to organizations that serve forgotten people such as caregivers for people who have disabilities, or people who have disabilities themselves who can't go out for groceries. Make a list of these people and be generous with your excess food.
We hope that these tips are helpful, and we would love to hear about your best practices and learn what other useful tips you have! Stay home. Stay safe. Stay well!
This is a guest post written by:
Dr. Jennifer Camota Luebke is the Co-Founder and CEO of Ability Revolution, Inc., a 501(c)(3) organization that teaches and coaches workplaces, educational institutions, and communities on how to create disability-inclusive cultures and belonging. Jennifer is also a Business Transformation Change Management executive and a Gallup CliftonStrengths coach. She is married to Christopher, Ability Revolution co-founder a special education inclusion teacher. Their son Antonio is a college freshman at Georgia Tech's EXCEL program for students who have intellectual and developmental disabilities. You can contact Jennifer at [email protected] or at http://linkedin.com/in/docjcluebke/.
More:
Where to Buy Cheap Cloth Face Masks for $2
Best Grocery Delivery Services When You Need to Stay Home
Dalgona Matcha or Whipped Matcha Latte (No Egg)
Stimulus Scams to Watch Out For
How Much Stimulus Money Will I Get?
New Rules for Shopping at Costco During the 2020 Pandemic
What to Do If You Are Unemployed Due to the Pandemic
Resources to Help You Get Through the Pandemic
Free Online Classes for Adults During the Shutdown
101 Fun Activities for Kids at Home That Will Keep Them Busy