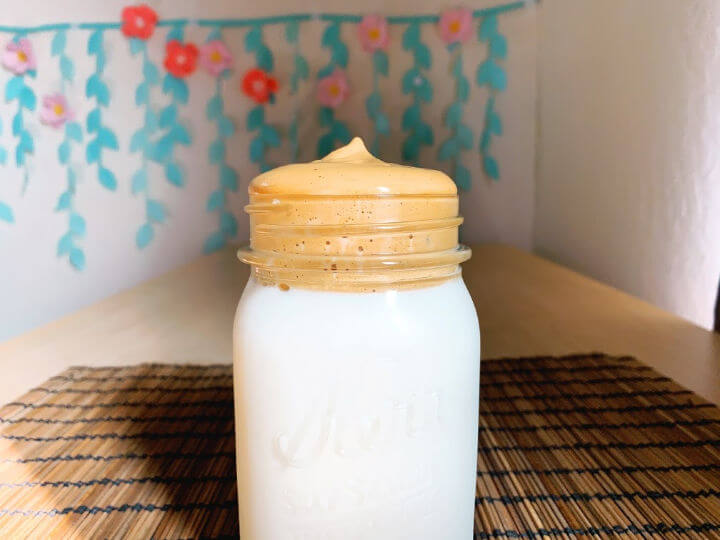 Dalgona Coffee or whipped coffee drink has been all the rage on Instagram and Tik Tok. It's basically a glass of milk topped with velvety, whipped coffee, reminiscent of a Frappuccino. And you can make at home with just 3 ingredients!
Jump to Recipe
Are you bored at home and want to try something new? Try making Dalgona Coffee to spice up this quarantine time!
Where did Dalgona Coffee come from and what does Dalgona mean?
Dalgona Coffee gained popularity in South Korea, during social distancing orders. It's also known as the quarantine drink or quarantine coffee.
It became popular after South Korean actor, Jung Il-woo, ordered it from a Macau eatery while filming a food TV show. He described it as tasting like Dalgona, a Korean honeycomb toffee candy.
Is Dalgona Coffee good?
Um, yeah! The velvety, whipped coffee part is bitter on its own. But once it's combined with milk, it balances out the bitterness. Dalgona Coffee reminds me of a Frappuccino.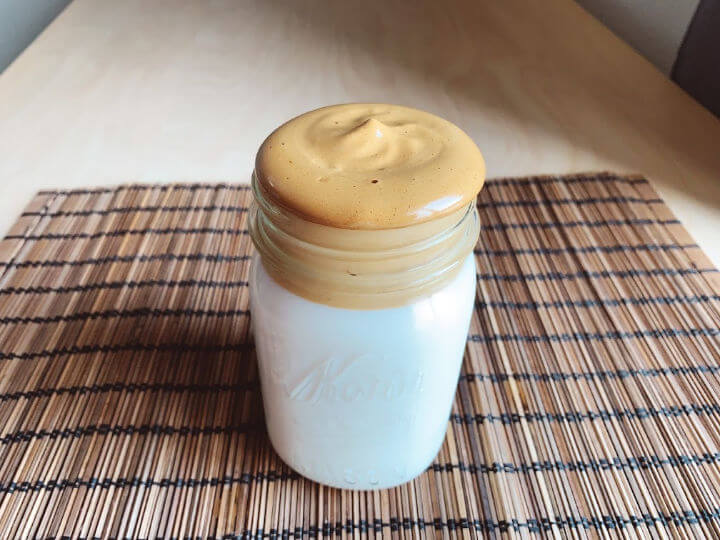 How does it fluff up with just water and instant coffee?
Dalgona Coffee is fluffy and creamy without having to use any cream! The secret is to use instant coffee, not coffee beans or ground coffee.
Can I use a milk alternative?
Yes, use any milk substitute you want like almond milk, soymilk, or oat milk.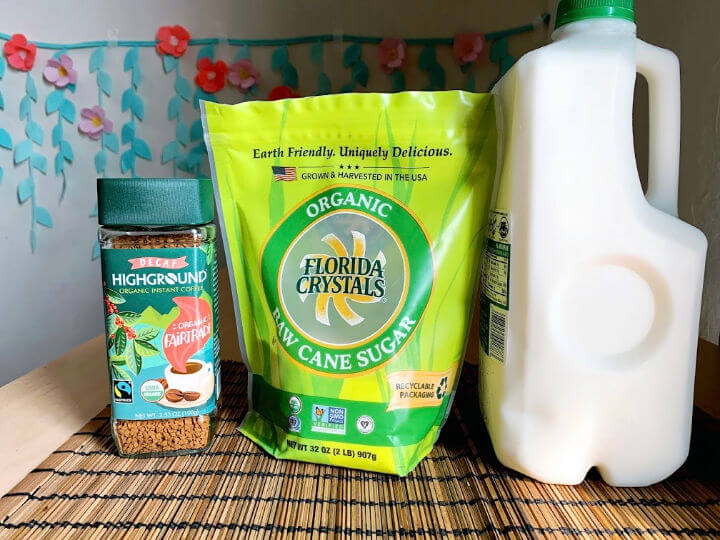 Can I use hot or cold milk?
Dalgona Coffee works with hot or cold milk.
How do I drink it?
The whipped coffee part is just instant coffee, sugar, and hot water so it's going to taste strong. But when you mix it with the milk, it will tame the boldness of the coffee.
What's the secret to getting it fluffy for pictures?
I've seen lots of pictures of Dalgona Coffee when it's whipped up like whipped cream. To be honest, it's challenging to get it fluffy enough to sit on the milk like a twisted soft serve ice cream.
I've tried it with a stand mixer and a hand mixer. And mixed it longer and tried piping it from a bag. FYI: no matter what I did, the mixture just sank into the glass of milk.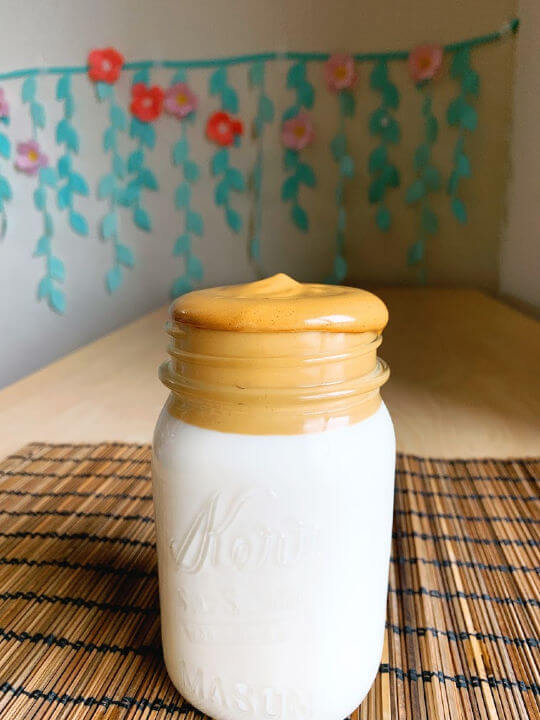 However, when I made Dalgona Matcha, it was a lot fluffier due to using heavy whipping cream.
So if you're looking for a super fluffy foam, it might not turn out as fluffy as you'd like. Here are some things I tried to make it fluffier.
Use an ice cream scoop to lay on the whipped coffee. Then use a whisk or the whisk attachment from your hand or stand mixer to twist the top of the coffee foam and lift it up to make a stiff peak.
Dalgona Coffee Step-by-Step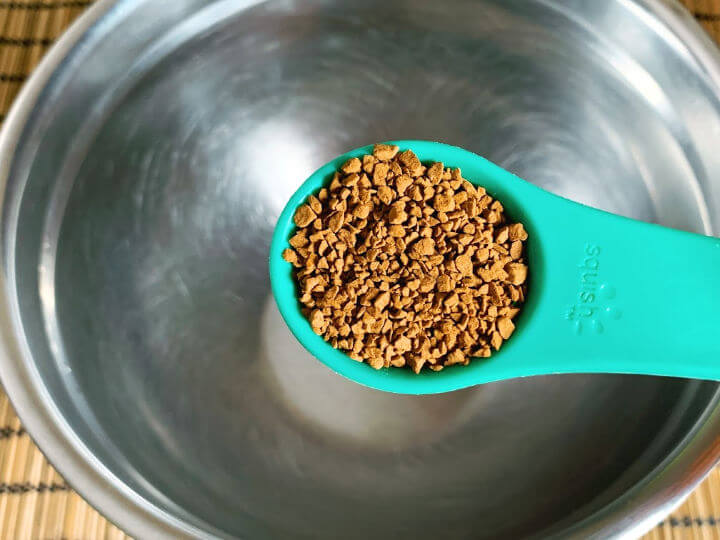 Add 2 tablespoons of instant coffee into a mixing bowl.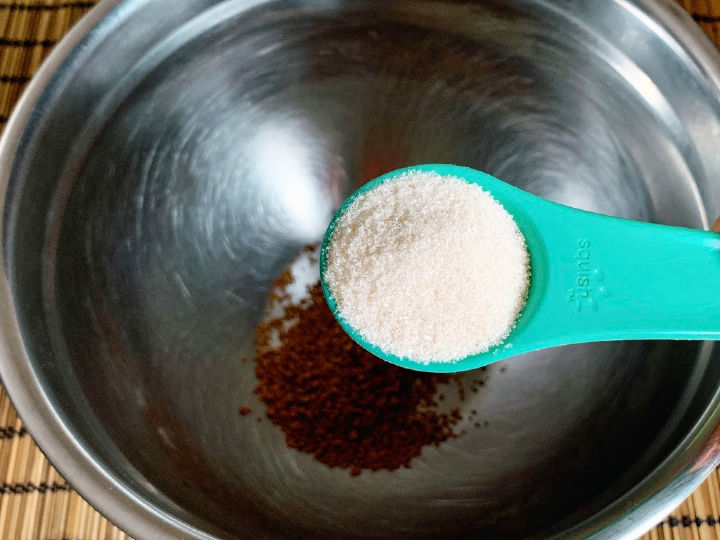 Then add 2 tablespoons of sugar.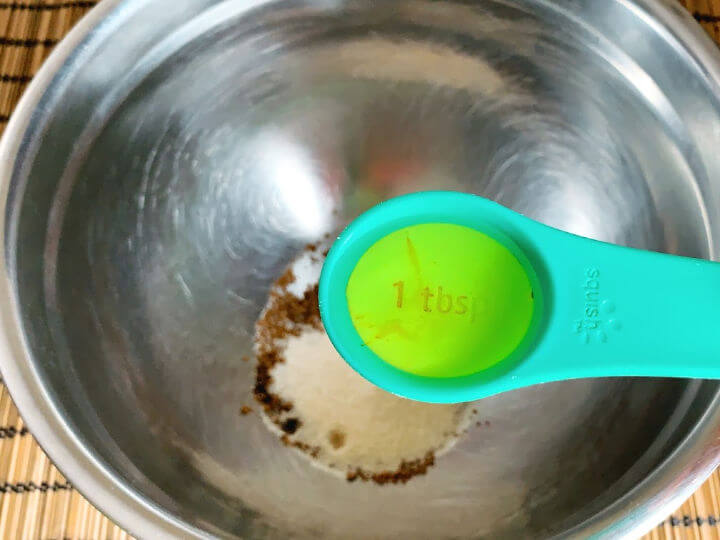 Next, it's 2 tablespoons of hot water, like after it has just boiled.
Use a hand mixer or stand mixer to blend together.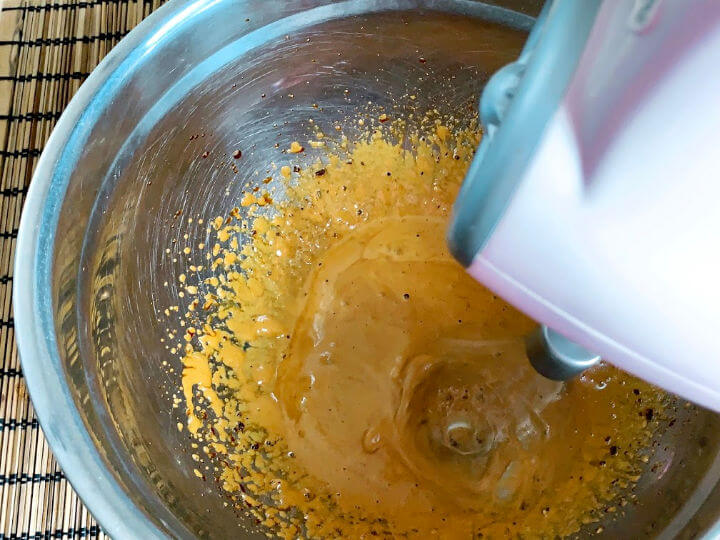 As it blends, turn it up to high setting. It will start turning a lighter brown.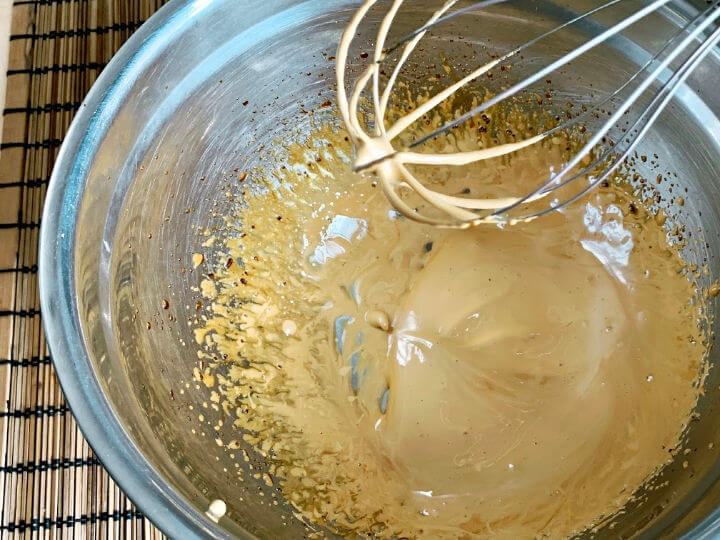 And as you keep mixing, it will become more like a tan color and fluff up significantly. At this point, keep mixing for 30 seconds or more and then stop. Pour a glass of milk and top with this coffee foam.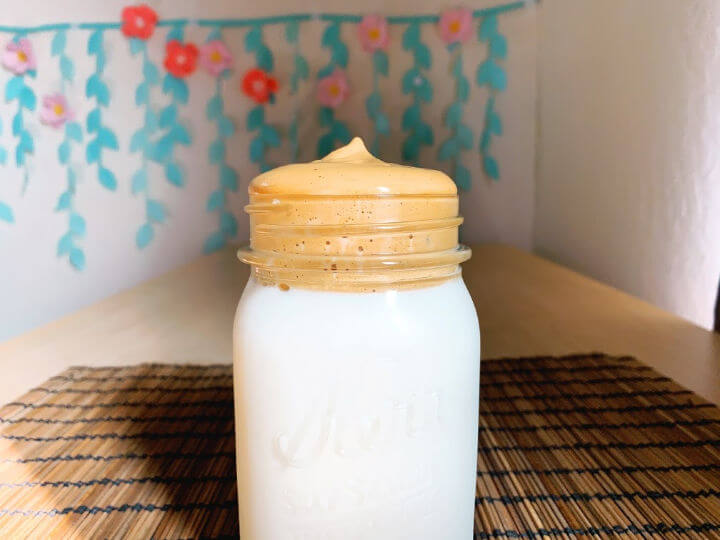 Dalgona Coffee Recipe Video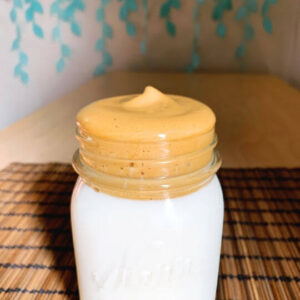 Dalgona Coffee
Make creamy, whipped Dalgona Coffee at home with just 3 ingredients! Savor a "fancy" coffee drink that is SO easy to make!
Instructions
In a large mixing bowl, add instant coffee, sugar, and hot water. Stir with a spoon to mix.

Using a stand or hand mixer, blend instant coffee mixture. Start with the mixer on low setting and move up to a high setting.

Mix until the coffee mixture turns into a light brown color and is fluffy with stiff peaks. (About 2 – 3 minutes for hand mixer and 5 minutes for a stand mixer.)

Fill a glass with ice cubes (optional). Pour milk into glass. Top off with Dalgona Coffee mixture.

Optional: For better pictures, scoop with an ice cream scoop for fluffier Dalgona Coffee. Use a whisk to twist off the top of the whipped coffee for a stiff peak.
Please LEAVE A STAR RATING and COMMENT! Help GET THIS RECIPE FOUND by more people.
This post contains affiliate links. When you make a qualifying purchase, I will receive a small commission at no extra cost to you.
More:
Dalgona Matcha or Whipped Matcha Latte (No Egg)
Make Mocha at Home without a Machine