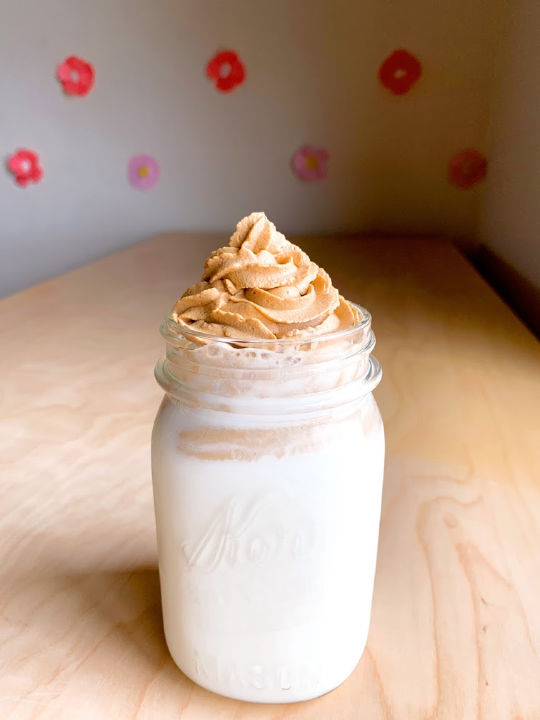 Looking for Dalgona Coffee variations? How about Dalgona Chai!
This quarantine time has forced people to be more creative at home and I love it! I have seen so many variations of Dalgona.
I was inspired by all the cool Dalgona drink variations that I decided to try making Dalgona Chai. It's just 3 ingredients but the challenging part is finding the right kind of chai to use.
What Kind of Chai to Use
I used instant chai that has been presweetened and does not contain milk powder. I think it's better to use a dry mix vs. brewed tea or a concentrate, as adding liquid to whipping cream will change the texture.
This was what I had in my pantry so it worked perfectly.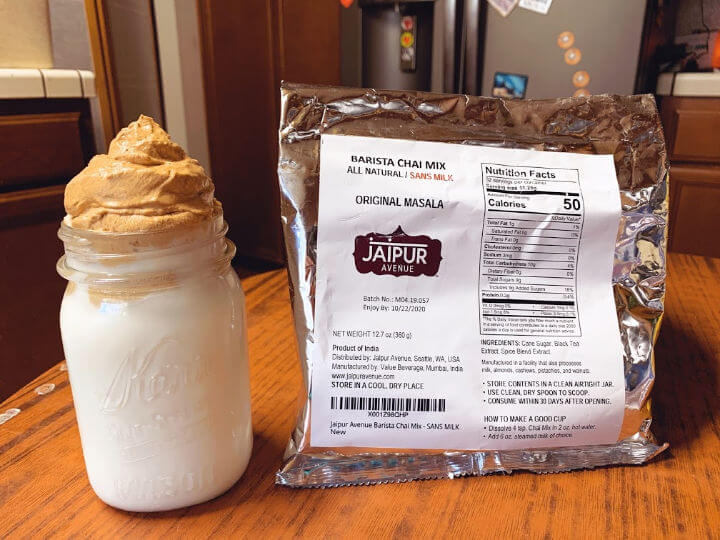 I use the Jaipur Avenue Barista Chai Mix from Amazon. It's an authentic Indian masala chai mix that I love!
I'm super picky with my chai because I have tried a lot of different brands at food shows. I like ones that use real ingredients and without stabilizers.
Jaipur Avenue makes 2 versions of this Barista Chai Mix, one with milk powder and one without. Again, I used the one without milk powder added. Because it doesn't have milk, you have the option to use nondairy milk to make regular chai lattes.
If you have instant chai that contains dry milk powder in it, I encourage you to experiment with it and let me know how it turns out.
The ingredients for this Dalgona Chai Recipe are instant chai powder, heavy whipping cream, and milk. That's it!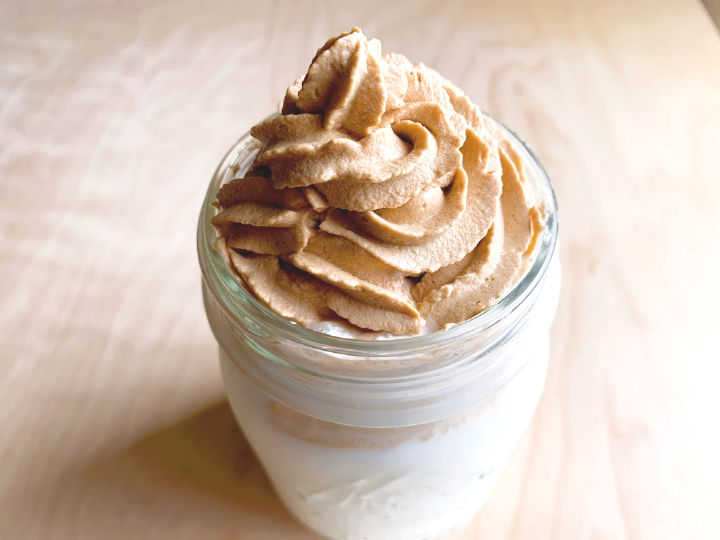 Does the Dalgona Chai cream fluff well?
So I kinda have this obsession with trying to make my Dalgona drink super fluffy and whipped. And I know I am not alone! Dalgona Coffee was not easy to work with.
But with Dalgona Chai, I have finally satisfied my need to make this drink super fluffy. Because this Dalgona Chai recipe contains heavy whipping cream, it makes it SO easy to get airy, creamy, fluffy chai cream, that you can stack as high as your heart desires!
It also looks SO good for your Instagram pictures and the cream actually stays airy and light for a long time! So fluff to your heart's content.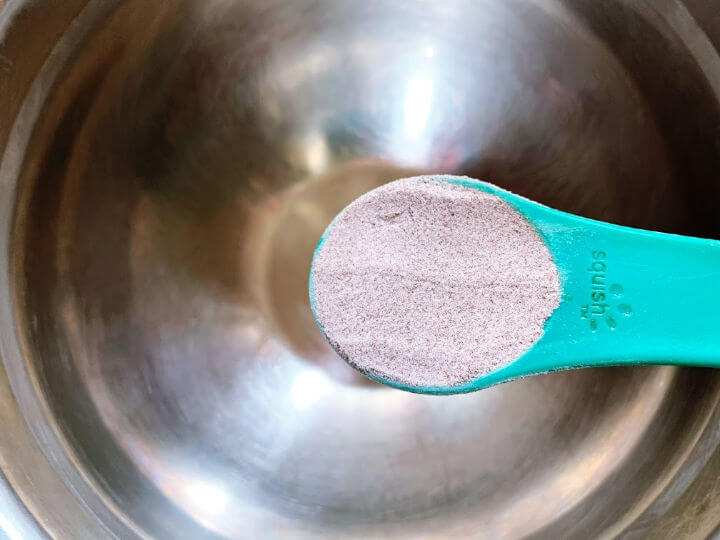 In a mixing bowl, add instant chai powder.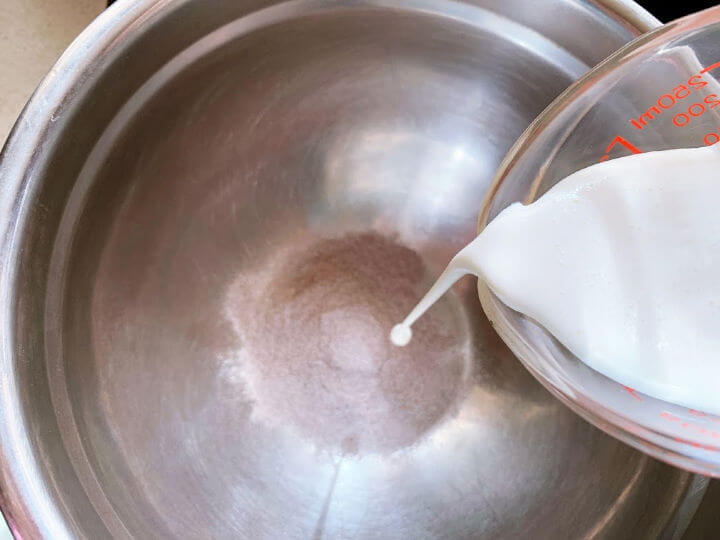 Then pour in heavy whipping cream.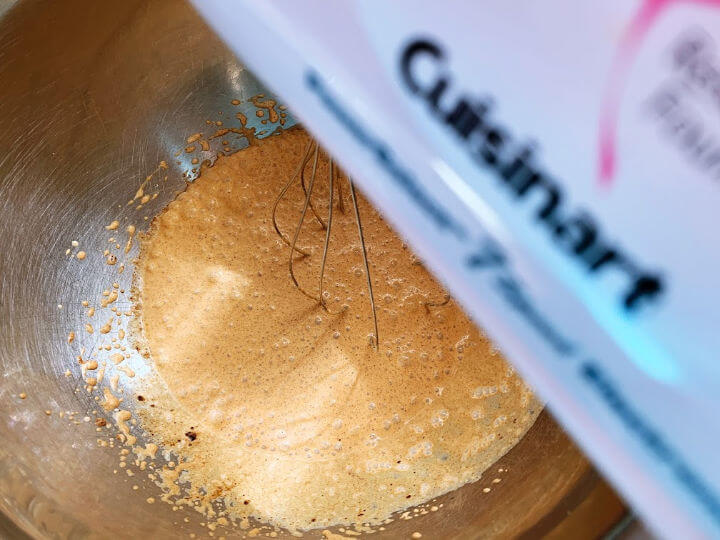 Use a hand or stand mixer to mix.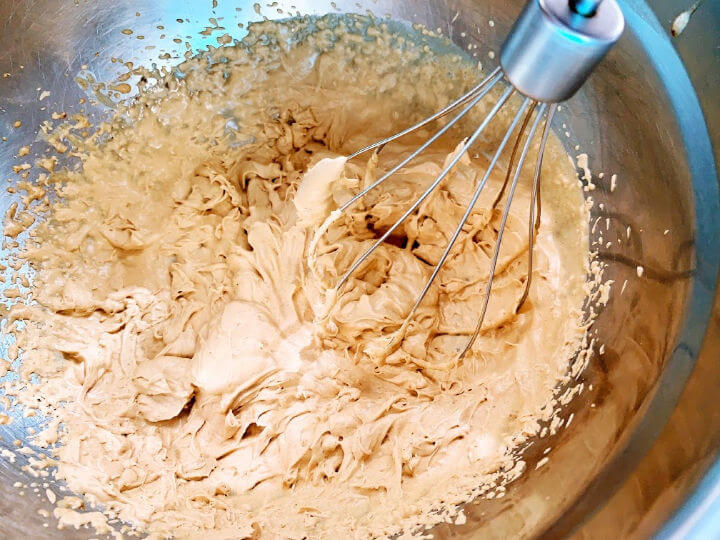 Turn up the speed to medium or high until a whipped cream forms.
Food Styling Tips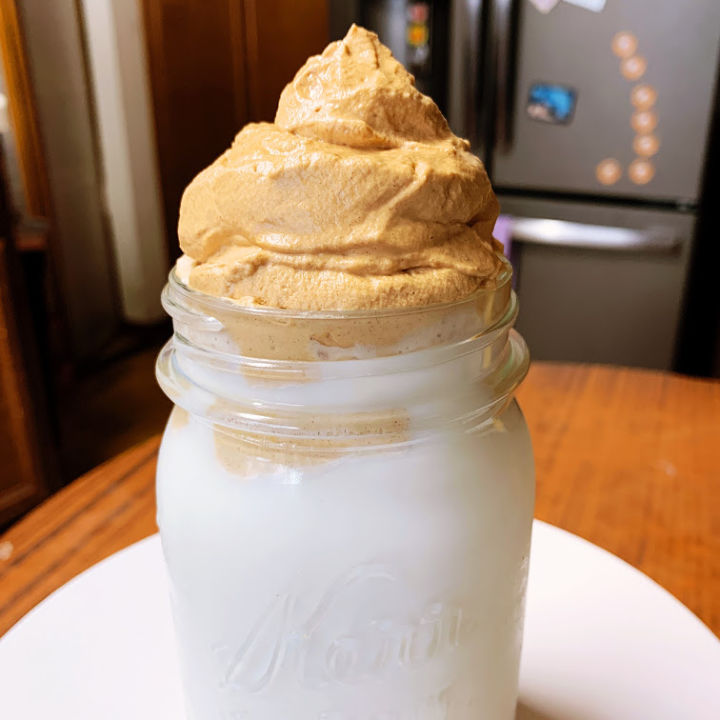 Above: Ziploc bag cut in the corner, without a piping tip.
I piped this, initially, thinking that I would get a soft serve look. Instead, it turned out looking like poop! This is the behind the scenes stuff that happens.
In the image above, I piped this with a ziploc bag without a piping tip and just smashed it with a spoon.
I doubled the recipe so I would have more cream to work with. And the cream is easy to work with and totally shapeable.
I recommend using an ice cream scoop to place it on the milk. Then use a spoon to shape it to your liking. You can also smash the mixture down into the milk, to make it thicker at the base of the cream.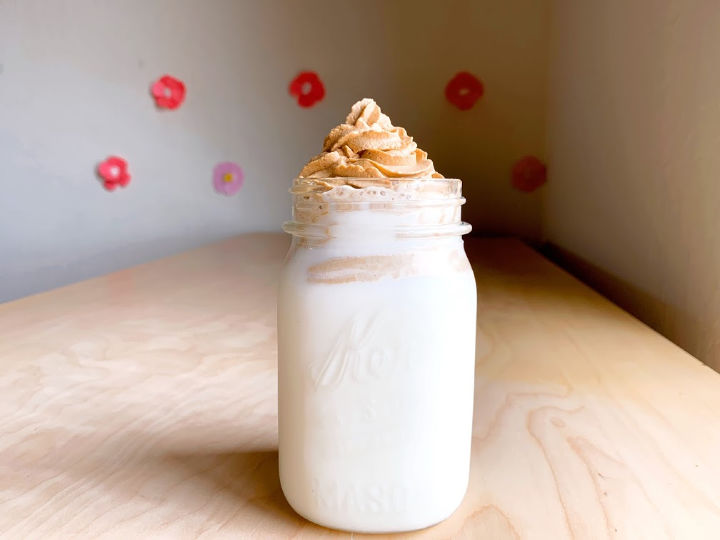 Above: Piping bag with an open star piping tip.
I was unhappy with the first attempt at this recipe so I redid it with the proper piping tip, after ordering it from Amazon. And wow, what a difference!
The piping tip I used is the Wilton 1M tip. It came in a set with other piping tips and piping bags.
If you're looking to take Instagram worthy pictures of your Dalgona chai latte, then get the piping tips. The piping tips are excellent for decorating impressive cupcakes too.
Watch the full video tutorial.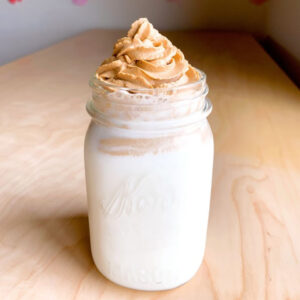 Dalgona Chai Latte
Here is a cool variation of the popular Dalgona drink, Dalgona Chai Latte! And it uses just 3 ingredients.
Ingredients
1/4

cup

heavy whipping cream

1

tablespoon

instant chai powder (presweetened but without milk)

see notes

1

cup

milk

ice cubes

optional
Instructions
In a mixing bowl, add cream and instant chai powder. Using a mixer, blend slowly to mix ingredients. Then set the mixer to medium to high speed to whip the mixture until it becomes fluffy and creamy.

In a glass, add ice cubes. Pour in milk. Spoon Dalgona Chai mixture on top of milk. Serve.
Notes
For the instant chai, I used Jaipur Avenue Barista Chai Mix, which contains sugar but no milk. This kind of instant chai may be hard to find but I found it on Amazon.
Please LEAVE A STAR RATING and COMMENT! Help GET THIS RECIPE FOUND by more people.
This post contains affiliate links. When you make a qualifying purchase, I will receive a small commission at no extra cost to you.
This post contains affiliate links.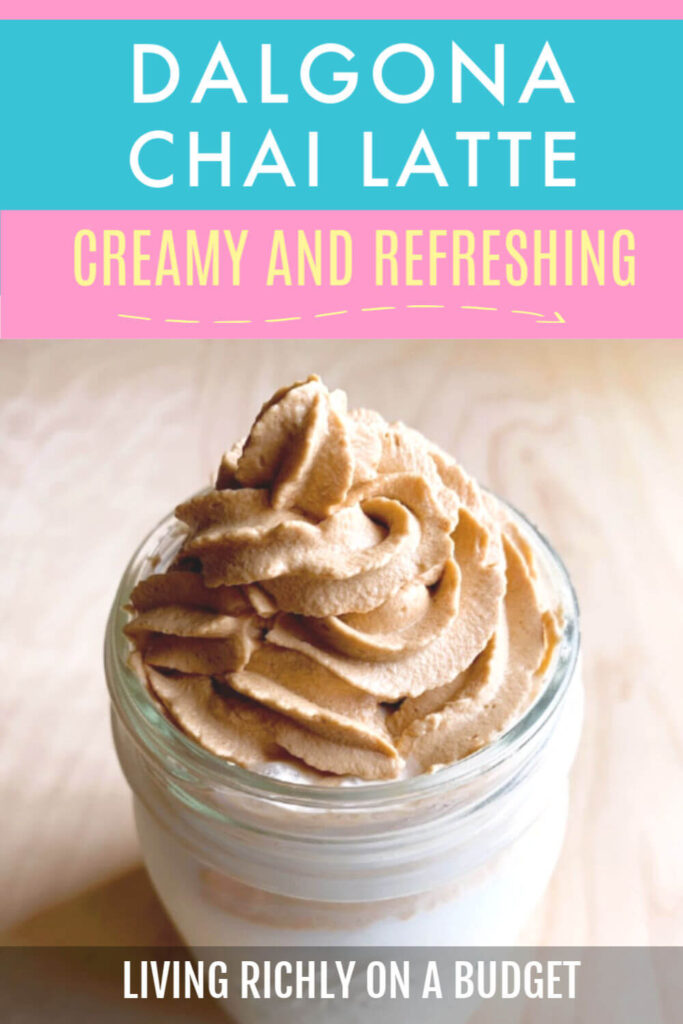 More:
Dalgona Coffee Whipped Coffee Drink
Dalgona Matcha or Whipped Matcha Latte (No Egg)
Thai Iced Tea Without Artificial Food Coloring
Make Mocha at Home without a Machine