Want to make spaghetti and meatballs all in one pot, in the Instant Pot? Spaghetti and meatballs is one of the trickiest things to cook in the Instant Pot. And to add to the confusion, everyone has a different way of cooking it.
From making spaghetti and meatballs a few times, I've learned to not trust recipes where it states only one cooking time. The problem with that is that every spaghetti brand has a different cooking time.
What if you're cooking whole wheat spaghetti or even gluten-free? That one cooking time is not going to work for every single spaghetti out there.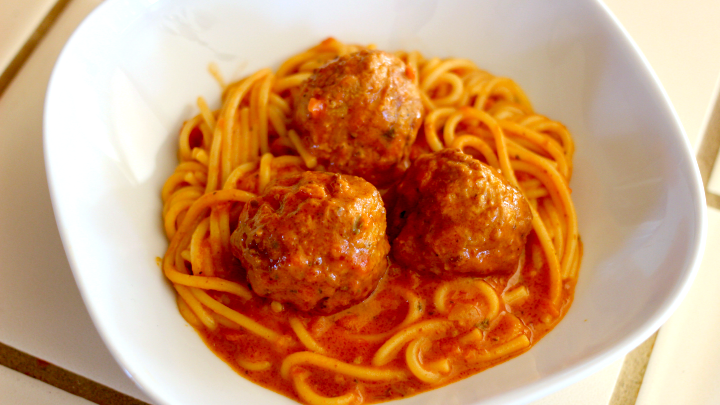 So I've come up with this easy formula. Cook half the time as stated on the spaghetti package and add 5 minutes of natural release.
I haven't tried making whole wheat or gluten-free spaghetti in the Instant Pot yet. But a reader told me when she made whole wheat spaghetti, she added 1 extra minute of cooking time to this formula and it turned out perfect for her.
Everything is trial and error here.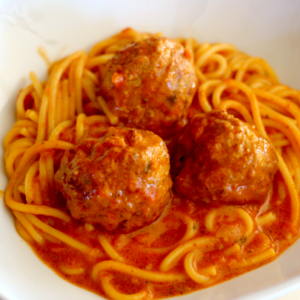 Instant Pot Spaghetti and Meatballs
Sometimes you don't have time to nurse something over the stove. With this easy Instant Pot Spaghetti and Meatballs, you'll have dinner ready in no time!
Instructions
Place frozen meatballs in the bottom of the Instant Pot.

Break spaghetti in half. Then spread out the spaghetti side by side on top of the meatballs. Arrange each layer in a criss cross pattern.

Pour entire jar of sauce, making sure to completely cover the spaghetti.

Fill up empty sauce jar with water and pour down the sides of the Instant Pot.

Close the lid. Turn the valve on the Instant Pot to sealing. Press the manual button to cook on high pressure for half the cooking time as stated on the spaghetti package. If it's an odd number like 11 minutes, then cook for 5 minutes.

When the Instant Pot beeps and is done cooking, do 5 minutes of natural release. Then turn the valve to venting and do a quick release. Stir and serve.
Please LEAVE A STAR RATING and COMMENT! Help GET THIS RECIPE FOUND by more people.
This post contains affiliate links. When you make a qualifying purchase, I will receive a small commission at no extra cost to you.