A lot of you asked for this recipe, which I've been meaning to post.
This recipe is naturally gluten-free.
It's also peanut-free for those with a peanut allergy.
Instead of ground peanuts, which is what it's traditionally made with, I used almond butter. You can really taste the difference.
I've made Thai Panang Curry at least 20 times over the past year or two.
The funny thing is how I learned how to make it.
I've always ordered this from a Thai restaurant, never thinking that I could cook it as good on my own.
One day, out of the blue, my husband was chatting with his co-worker about Thai food. And he mentioned that I wanted to learn how to make it.
So his co-worker generously gave me a few cans of curry paste and coconut milk to try. Finding the right curry paste was key.
He didn't give me a recipe so I just followed the directions on the can, albeit, if I could find it in English. After making it 3 times, I realized that something was missing. So I added fish sauce.
BTW: I use Tiparos brand fish sauce, which doesn't contain MSG or weird preservatives. I also use So Delicious Unsweetened Coconut Milk, as it doesn't have the preservatives that are in traditional canned coconut milk, found in Asian grocery stores.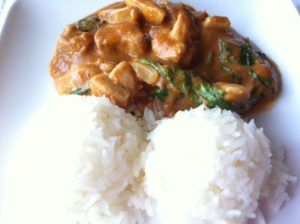 After adding fish sauce, something still didn't taste right. I tried Panang Curry from a restaurant again, for reference, did a search online, and realized that it was missing peanuts and basil.
This curry is traditionally made with ground peanuts. Since I had a peanut allergy at the time, I decided to make it with almond butter instead.
After a few more attempts using almond butter, experimenting with agave nectar vs. sugar, I settled on this recipe below. And now you can make it yourself too!
I like to cook this in a wok because of the large surface area. And I cook the chicken and sauce separately. I've made it many different ways, including making the sauce first and cooking the chicken in the sauce.
But the thick sauce always ended sticking to the bottom of the wok and made it difficult to cook the chicken completely.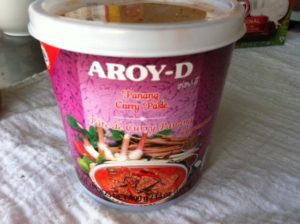 Make sure you get a curry paste that lists garlic or shallot as the first ingredients and not chili. Otherwise, it will be too spicy!
You can find curry paste at any Asian grocery store. My favorite brand is Aroy-D that I get at 99 Ranch Market here in California.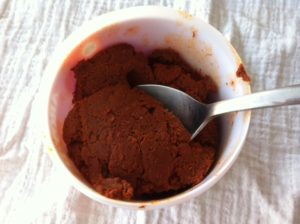 To adjust the level of spiciness, use less or more sweetener like sugar or agave nectar. I think I might try making this sauce without the basil and freezing it.
You might also like:
Instant Pot Thai Chicken Curry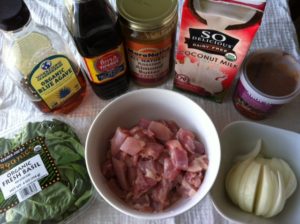 Thai Panag Curry Recipe
Serves 4
Ingredients
4 tbsp Canola Oil (divided)
1 Sliced Onion
1 – 1.5 lbs of chopped skinless, boneless chicken thighs
3 tbsp of Panang Curry Paste
2 cups of Coconut Milk
3/4 cup of Almond Butter
2 tbsp Fish Sauce
4 – 6 tbsp Agave Nectar or Sugar (use more tbsps if using sugar)
2 cups of Basil leaves (or as much as you like)
Directions
1. Over medium high heat, add 2 tbsp of oil to a hot wok or large pan. Add sliced onion and saute for a two minutes until almost translucent.
2. Then add chopped raw chicken. Stir occasionally until cooked through. Remove chicken, onions, and chicken liquid  from wok and place into a large bowl for later.
3. Wash the wok or pan then place it over medium heat. Add 2 tbsp of oil and the curry paste. Stir fry it for a minute, spreading the paste, to release the flavors.
4. To the paste, pour in the coconut milk. Stir the paste until dissolved into the coconut milk.
5. Add the almond butter, mixing through so it doesn't stick to the bottom of the pan.
6. Then pour in the fish sauce and stir.
7. Next, add the agave nectar 1 tbsp at a time. Taste the mixture with after each tbsp is added. Keep adding another tbsp of agave nectar until you get the level of spiciness you like. (I find that 6 tbsp is my sweet spot as I like it mild.)
8. After you've perfected the sauce, add the cooked chicken, onions, and chicken liquid into the curry.
9. Finally, combine the basil leaves into the curry. Then turn off the stove. Stir the curry until the basil is slightly wilted. Don't overcook basil as it will lose flavor.
10. Serve immediately over steamed Jasmine rice.
More:
The Original Sushi Bake Recipe