If you love chai and would love to make it yourself, check out my first How-To YouTube video on How to Make Sugar-Free Chai Latte.
I've tried various ways of making chai – chai latte concentrate (too much sugar) and tea bags (not enough flavor).
This is an easy way to make chai from scratch, using whole ingredients.
You just need the right products. In this version, I use Rishi Tea Organic Masala Chai, almond milk, and stevia. You can find Rishi Tea at Whole Foods or Amazon. But Amazon only has the 3 pack available.
This Rishi Tea tin comes with all the whole ingredients you need to make chai – black tea, cardomom, ginger, ground cinnamon, clove, and black pepper. It is a bit pricey. I found it for $9.99 at Whole Foods.
However, because it's in a re-useable tin, the ingredients stay fresh for a long time. And you can make it whenever you want. Whereas with a chai concentrate, you have to use it up within 7-10 days.
Stevia is a natural sweetener and has a neglible affect on blood sugar levels. It has a lighter taste yet is sweeter than sugar so a little goes a long way.
You can make your own version with sugar too, but replace the stevia with sugar or another sweetener.
Chai tastes best with whole milk or soy milk. I use almond milk because I'm avoiding milk and soy right now.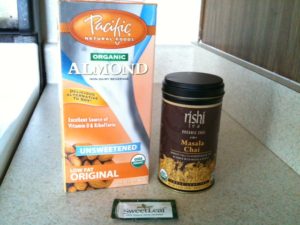 Keep in mind that almond milk tends to separate.
My favorite brand of soy and almond milk is Pacific brand, also available at Whole Foods and other grocery stores.
And I like the Sweet Leaf brand of stevia.
Sugar-Free Chai Latte Recipe
Makes a 6 oz serving
1/2 cup of water
1/2 cup of milk or milk substitute
1 tablespoon of Rishi Tea Organic Masala Chai
Stevia or sweetener to taste
Directions
Add water, milk, and chai ingredients to a pan. Heat on medium high until boiling.
Lower heat and simmer for 5 minutes. Strain into a cup. Sweeten with stevia or other sweetener to taste.
This post contains affiliate links. Disclosure Policy
More:
Dalgona Coffee Whipped Coffee Drink
Dalgona Matcha or Whipped Matcha Latte (No Egg)
Make Mocha at Home without a Machine