For the past 4 months, I've been on a gluten-free, sugar-free diet.
And one of the things I missed the most was pancakes.
There are lots of gluten-free pancake mixes available but they're quite pricey and have a long list of ingredients.
You can also make your own, but that requires buying several types of specialty flours.
So when I found this recipe for gluten-free pancakes with only 5 ingredients, I was super excited to give it a try.
I'm all for things that are simple that require only a few ingredients. This rice flour pancake recipe consists of rice flour, eggs, milk or milk substitute, vegetable oil, and salt. That's it!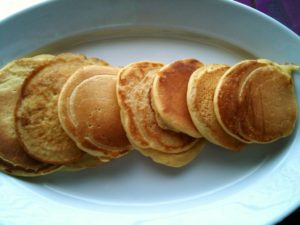 You do have to let the batter sit at room temperature for at least an hour or refrigerate it overnight. It helps the batter solidify and get to the right consistency.
And you know what? This recipe makes pretty decent pancakes! And they brown up nicely just like the regular pancakes.
The rice flour gives it a slightly sweet taste without having to add sugar. It's a little more rubbery than regular pancakes, but still slightly fluffy.
I substituted unsweetened almond milk for milk and olive oil for vegetable oil. And it still tasted good! Well, good enough for me anyway.
I'm on a pretty strict diet so I can't have other oils. But I'd recommend using canola or another vegetable oil, if you can.
I usually eat these gluten-free pancakes with a spread of almond butter instead of sugary syrup. Yum! The almond butter on these rice flour pancakes give it a good, power-packed, protein punch to start my day.
If you're looking for an easy gluten-free pancake recipe, this is it!
Gluten-Free Rice Flour Pancakes
Serves 2
Ingredients
3 eggs
1/2 cup of milk or milk substitute
1 tablespoon of vegetable oil
1/2 teaspoon of salt
1 cup of rice flour
Directions
Beat the eggs in a mixing bowl; stir in the milk, vegetable oil, and salt.
Whisk in the rice flour until no dry lumps remain.
Cover the bowl and let stand at room temperature for 1 hour or in the refrigerator overnight.
Heat a lightly oiled griddle over medium-high heat. Drop batter by large spoonfuls onto the griddle and cook until bubbles form and the edges are dry. Flip and cook until browned on the other side. Repeat with remaining batter.
Tips:
If you don't have a griddle, just use a cast iron pan like I do. It works just as well. If you don't have one, you can get one cheaply on Amazon.
A ladle or large spoon will help you scoop the batter onto the pan.
This batter is thicker than regular pancake batters so it might not bubble up when cooking. Therefore, you can't depend on seeing bubbles to know when to flip. I usually flip the pancake after 30 seconds to a minute.
More:
The Original Sushi Bake Recipe
Sugar-Free Dairy-Free Ice Cream Recipe
Dalgona Coffee Whipped Coffee Drink
Dalgona Matcha or Whipped Matcha Latte (No Egg)
Make Mocha at Home without a Machine