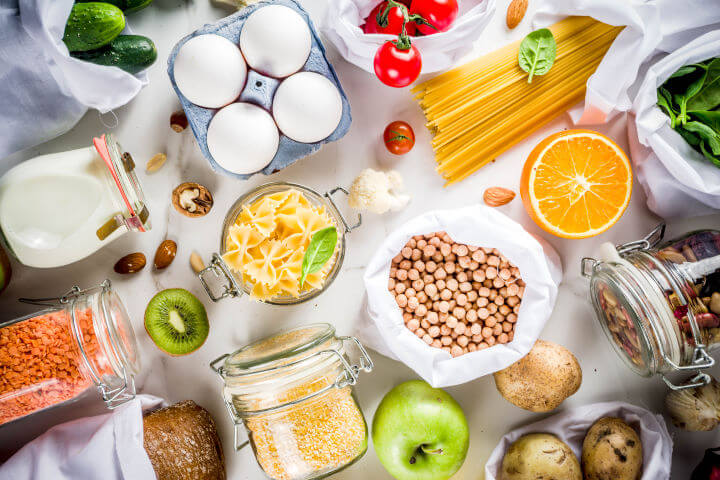 What do you do when you need to stay at home but need groceries? You use a grocery delivery service!
Some people may see this as being lazy but during the shutdown, it's an absolute necessity! No one really wants to go out, especially if you're pregnant, disabled, have a compromised immune system, or have kids.
Now you don't have to. If you're willing to spend a little more for this great service and modern convenience… just do it!
Currently, the lines to Costco take 30 minutes to 2 hours, in order to get in! Since they are limiting the number of people per card, it makes sense to use a grocery delivery service if you have kids.
This isn't a long list but only the best grocery delivery services you should check out! And what's best is based on what they have to offer, stores that have everything from toilet paper, snacks, eggs, dairy, fresh meat, and hard-to-find healthy items.
Keep in mind that what delivery service is available depends on your location.
Instacart is a popular grocery delivery service in the San Francisco Bay Area and other major US cities because they can deliver items from Costco! They deliver from a lot of other grocery stores as well.
Check here for locations they deliver to.
They charge a small service fee and a delivery fee on orders of $35 or more. Or get free delivery if you join Instacart Express ($9.99/month).
You can tip the driver however much you want but I'm hearing that Intacart drivers can see your tip before they choose who to shop for! So if you tip more, they might choose your cart to shop for.
Also, the prices for items are a little higher than in the store. Still, the convenience of having all your items delivered to your home and not having to brave the long lines at the store or be around sick people, is SO worth it right now.
The Trick to Saving at Costco with Instacart
If you are a Costco member, here's a trick to saving a little more on Costco via Instacart. If you shop directly from the Instacart link on the Costco.com site, you can get slightly lower prices than from the Instacart site or app!
Here's how to find Instacart on the Costco.com site.
Go to the Costco.com site.
Click on Grocery, then select Same Day Delivery.
Or click here.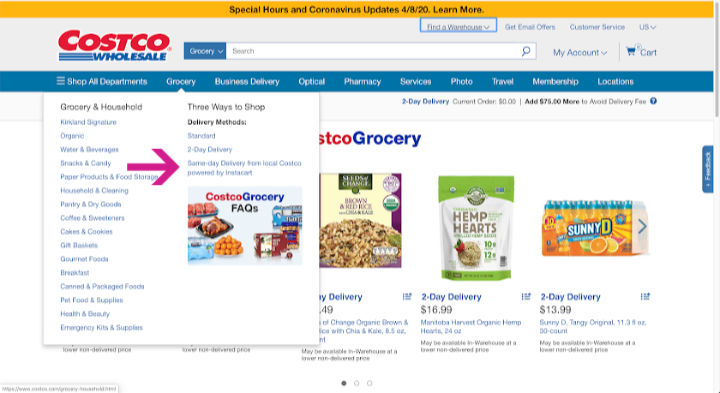 Here are some items I compared:
| Item | Instacart via Costco.com | Instacart |
| --- | --- | --- |
| Charmin Toilet Paper | 27.49 | 28.09 |
| Paper Towels | 20.29 | 20.79 |
| Eggs (5 dozen) | 4.59 | 4.69 |
FYI: Instacart has been swamped with orders. But the high volume of orders seems to have slowed down a bit.
Right now, I am seeing open delivery slots. You might have to keep checking throughout the day. And when you do get a delivery slot, it may be a few days away.
If an item isn't available on the site, you can add a special request and the shopper can look for it for you.
Also, keep in mind that their stock changes quickly so some of your items may not be available.
If you're wondering if toilet paper is available, keep checking. I checked last week and it wasn't available. However, now it is available! You can always put it in your special request.
Because the Instacart shoppers and drivers are risking their health to get your groceries, please tip them well!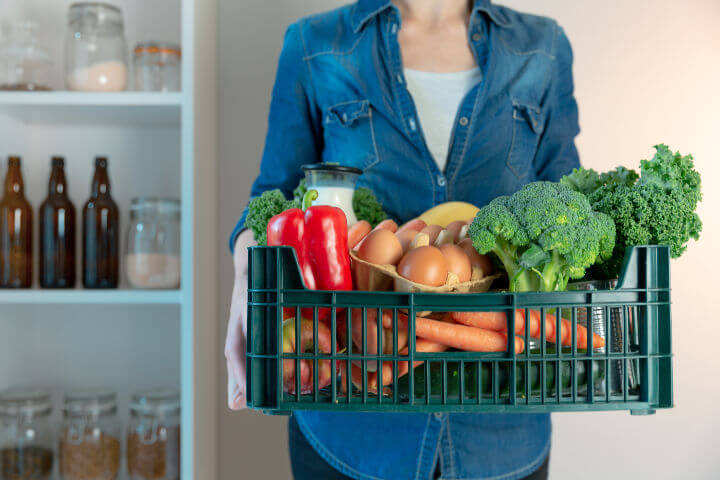 Prime Now has evolved over the years to now include grocery items and things from Whole Foods stores. Prime Now is an app where they offer delivery within 1 – 2 hours.
But during this shutdown time, the demand has been so high that it is harder to find delivery slots. It's not impossible though!
I've checked at different times of the day and found an open slot in the early and late afternoon. So keep checking.
You may not be waiting in line at the grocery store, but you're waiting to find an open delivery slot!
Do they have toilet paper? Maybe. Well, my husband spoke to someone who did find toilet paper on Prime Now.
It really depends on when they restock, which may be early morning. Again, keep checking and keep an open mind when shopping during this tough time.
Prime Now has 2 stores under them – Amazon and Whole Foods. When you shop for items, you'll see which one each item belongs to, either Amazon or Whole Foods.
It's a little confusing but pay attention to this because it means that each store has a different checkout cart. Amazon has one and Whole Foods has another.
When you add an item from Amazon, it goes into the Amazon cart. When you add an item from Whole Foods, it goest into the Whole Foods cart.
Just to make it more confusing, you'll see that the Whole Foods brand food products are available at Amazon and at Whole Foods. I've given up trying to figure out which is which!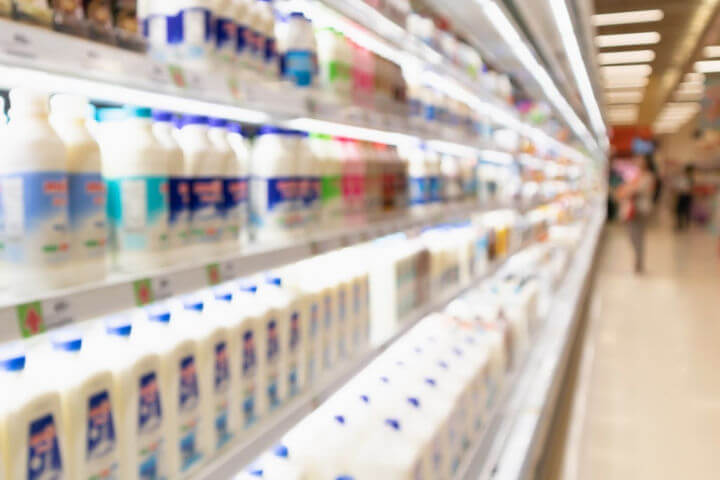 For example, I found fresh goat milk available at Amazon and Whole Foods. Toilet paper was available only at Amazon.
When you're done adding items into your cart, you get free shipping for orders of $35 or more if you're an Amazon Prime member.
You can also choose an amount to tip the driver.
During the first week of the shutdown, I made an order through Whole Foods. And I had 5 items.
When my delivery came, I ended up with only 1 item, a chocolate bar! I felt SO disappointed. But I tipped the driver anyway, because it wasn't his fault.
Keep in mind that a lot of things may not be available. But I think they have recovered from the shortages of food that happened a few weeks ago.
When you order via grocery delivery service, you have to keep an open mind. The stock that they have may be limited and the demand for items is higher than usual.
More:
Where to Buy Cheap Cloth Face Masks for $2
How to Grocery Shop Online During the Pandemic
Stimulus Scams to Watch Out For
How Much Stimulus Money Will I Get?
New Rules for Shopping at Costco During the 2020 Pandemic
What to Do If You Are Unemployed Due to the Pandemic
Resources to Help You Get Through the Pandemic
Free Online Classes for Adults During the Shutdown
101 Fun Activities for Kids at Home That Will Keep Them Busy
Free Online Workout Classes During the Shutdown
Pin for later: